Cape Town ready for Dewani honeymoon murder trial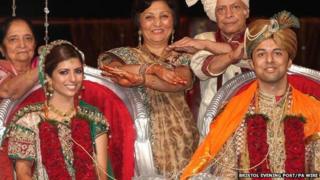 No-one is celebrating in Cape Town, but there is an eager sense of both vindication and anticipation here, as South African officials await the long-delayed arrival of British murder suspect Shrien Dewani on Tuesday morning.
"All systems are go," said Mthunzi Mhaga, a spokesman for the department of justice.
"Indications from law enforcement and prosecution are that they have a formidable case against him. He is not on a honeymoon. He is not on holiday. He is here to stand trial and we want to see that happen within a reasonable period of time.
"We have a clean track record - a very impressive one," Mr Mhaga said, evidently still smarting from the criticism of "naysayers who have been peddling lies" about the capacity and independence of South Africa's police and courts.
"They are eating humble pie now," he said.
Psychiatric hospital
It has been a long wait for all concerned.
Mr Dewani left Cape Town three and a half years ago, after his wife, Anni, was shot dead on their honeymoon, in Khayelitsha - a poor neighbourhood on the windswept plains outside the city.
South African prosecutors believe Mr Dewani organised his wife's murder - a charge he has denied.
He is likely to be whisked straight from Cape Town's airport to the High Court on Tuesday morning, and then on to the secure Valkenberg psychiatric hospital, on the edge of the city.
He has been promised a single room, and no prison, before and during his trial. He may also seek bail.
The South African authorities have agreed to send him back to the UK in 18 months if his mental health - he has been diagnosed with post-traumatic stress disorder - is not considered strong enough to cope with the rigours of a trial.
But that possibility does not seem to be troubling the department of justice.
"We're optimistic that after thorough examination of his condition, a declaration is likely to be made that… he's mentally fit to stand," said Mr Mhaga, acknowledging that such a decision lay in the hands of South African medical experts.
'Vindicated'
Others with knowledge of the case agree that the trial is likely to begin soon.
"I do think the South African medics would adopt a robust approach in trying to get the cause of [Mr Dewani's] anxiety out of the way as soon as possible," said lawyer William Da Grass, who represented the Dewanis' driver, Zola Tongo.
"The longer it takes, the greater the chance he may relapse. I think the idea is to get the trial over as soon as possible for his sake and, of course, for the sake of the victim and her family."
Incidentally, Mr Da Grass is also "quite chuffed to see that the South African legal system has, to a very large extent, been vindicated".
"I also think that the recent coverage given to the Oscar Pistorius trial has gone a long way to giving the international audience a look into our judicial system," he said.
"And I'm pretty sure they've come away with the idea that it's a lot more sophisticated than they had thought. At least in the judicial sphere, Africa can give as good as it gets."
Mr Da Grass's former client, Tongo, is currently serving an 18-year sentence after admitting to helping arrange Anni Dewani's murder.
Two other men have also been convicted.
Tongo told the police that Mr Dewani had offered him 15,000 rand ($1,400; £850) to have his wife killed.
Tongo's elderly grandmother Ivy said she was "glad" that Mr Dewani was returning to face trial and hoped her grandson's testimony would encourage the prison authorities to let him out of jail early.
"I can't take it any more," she said.