Rwanda genocide: Your questions to Kassim Kayira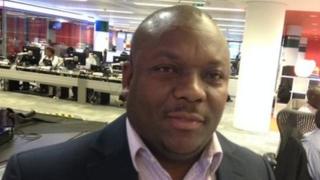 Rwanda has started a week of official mourning to mark the 20th anniversary of the country's genocide. Some 800,000 people were slaughtered in Rwanda by ethnic Hutu extremists. The questions many people are asking is: What led to such horrific events? And: How has Rwanda dealt with the aftermath, 20 years on? BBC Africa's Kassim Kayira, who is from Rwanda, answered your questions in a live Twitter Q&A on Monday 7 April.
This is an edited version of the session.
Question from @jweeraga: is Rwanda/ East Africa doing enough to stop such holocaust from ever happening again?
Kassim answers: Some mechanisms have been put in place but the fragility of many countries shows how easy it is to slide into chaos.
@AlekeMukunga: Who really shot down President's plane, triggering this holocaust?
Kassim: That's the million dollar question. There are several investigations that have been launched but none has been conclusive.
@kollybrado: How have successive governments attempted to mend fences in order for the nation to move on since the genocide? Have people's welfare improved?
Kassim: Well there's been only one government since but efforts have been made at empowering people and improving economic situation through sharing cows and loans.
Kassim: Also through improved healthcare all Rwandans have health insurance (mutuel de sante) malaria has been controlled to a huge extent.
Kassim: Plus international exposure which I think has changed if not impacted on people's mindsets and world outlook.
@jweeraga: The Gacaca courts, don't you think they breed more hatred than reconciliation?
Kassim: Gacaca courts dealt with 1.2m genocide cases, national courts 2000 and the UN tribunal 70 cases.
Kassim: People live side by side, many Hutus who fled in 1994 have had their properties returned to them now.
@kollybrado: How has the cow sharing effort been sustained? Do the elites of the country readily subscribe to the idea?
Kassim: It's more a grassroots effort that has been embraced by communities who are the real beneficiaries.
Kassim: People receive a cow and give the first calf to the next beneficiary and it's not selective (Hutu or Tutsi) ownership empowers.
@emeka_raymond: Is there any empirical evidence from Kagame to accuse France of complicity in the genocide?
Kassim: That has to have its day in court. Spanish and French indictments make mention but until proven in a court of law, no.
@hiroshima911: Why #Rwanda get involved in DRC was it a revenge or attack against everybody?
Kassim: I think it was more a consequence than a set-out plan. DRC supported Habyarimana including sending troops into Rwanda.
@gacherigaitu: When is the next general elections? Any preparation for an equal, better successor of Kagame for continuity?
Kassim: The next election is in 2017. President Kagame isn't eligible to stand but there've been suggestions he might change constitution.
@Kotokuom: How is the Rwandan economy doing now?
Kassim: I think this is one area in which Rwanda has outperformed many others on the continent. It had its roots in the previous govt.
For more tweets from Kassim Kayira you can follow his Twitter account: @kayira2000
You can also follow BBC Africa on Facebook, Twitter and Google+