Oscar Pistorius trial: Gasps of shock and visceral howls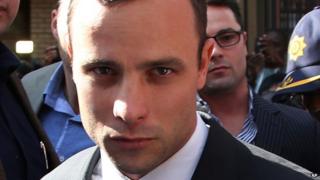 There was much drama and emotion on display in court on Tuesday as South African athlete Oscar Pistorius took to the stand for a second day.
Shortly before the double amputee described how he had shot his girlfriend Reeva Steenkamp on Valentine's Day last year, his lawyer asked him to demonstrate his height without his prosthetic legs.
Gasps were heard in the overflow courtroom as he slowly walked on his stumps over to the toilet door. This is the same door that he fired four shots through, three of which hit and killed Ms Steenkamp.
The brown bullet-holed door stands obtrusively in the courtroom. It has a heavy presence - both sides are hoping to use it to bolster their case.
Back to Mr Pistorius. Now dressed in black shorts and a white T-shirt, he stood awkwardly in front of the very door that had stood between him and his supposed intruder.
His confident demeanour changed - on his stumps he seemed self-conscious. Very few people have seen him like this and it is not an image visible to the world as his testimony is not being televised.
'Angel'
Mr Pistorius told the court he and Ms Steenkamp had said a few words to each other shortly after he woke up to bring in some fans from the balcony.
In his initial version, read out at the bail application after his arrest in February, there was no mention of a conversation with Ms Steenkamp. In fact, she was said to have been asleep since 10pm.
The discrepancy is yet to be questioned - one for prosecutor Gerrie Nel, I would imagine. Mr Nel is a stickler for details, and he is likely to question Mr Pistorius about this.
Mr Pistorius had used the morning in court to paint a picture of a loving relationship with Ms Steenkamp as he pored through messages where the two called each other "babe", "boo" and "angel".
'Quiet night in'
This took up the bulk of the morning's testimony and his lawyer Barry Roux tried to undo the damage caused by messages which presented the athlete as short tempered and possessive.
In one message, his girlfriend of two months at the time said: "I am scared of you sometimes".
He admitted to having been "sensitive" and "insecure" after he saw his new love chatting to an unknown man at a friend's engagement.
He explained how she apparently ignored him even "after making my presence known" and failed to introduce her to the gentleman - this upset him and he left.
However, he said any argument they had was resolved shortly afterwards.
Another detail Mr Pistorius had neglected to mention in his bail application, but added a different version of in his plea application at the start of the trial was how he had whispered to Ms Steenkamp to get down and phone the police after hearing a sound in the bathroom.
In court, he testified that this was as he prepared to leave their bedroom firearm in hand, and charge into where the intruder was - but there was no mention of her replying.
Before firing the shots he told the court he shouted to the burglar to leave his house and for Ms Steenkamp to phone the police.
Terrified by movement behind the toilet he opened fire - still no reply from his girlfriend, not a single sound.
He also did not mention having an argument with Ms Steenkamp that night, rather describing a quiet couple's night in.
The prosecution argues that he killed her in a fit of rage and neighbours have testified to hearing "loud voices" prior to the four shots Mr Pistorius fired.
Mr Pistorius broke down and cried bitterly as he spoke of the moment he discovered Ms Steenkamp's body.
"I don't know how long I was there. She wasn't breathing," he said as his collapsed into his chair, with his hands covering his face.
His loud, visceral howls filled the court room for several minutes but it felt like hours. His sister Aimee rushed to his side to console him.
The court had to adjourn so he could compose himself. Minutes later it adjourned for the day.
Ms Steenkamp's mother, June, was also in court. Some cried around her but she sat quietly, staring at the emotional Mr Pistorius.