South Sudan conflict: MSF accuses UN of 'indifference'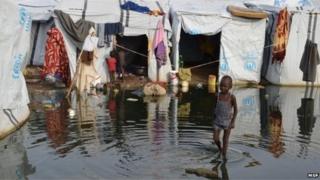 A medical charity has accused the UN in South Sudan of showing "shocking indifference" towards displaced people sheltering at one of its compounds.
About 21,000 people were "living in flood water contaminated with faecal matter" at the UN's Tromping base in the capital, Juba, Medecins Sans Frontieres (MSF) said.
The UN has not yet reacted.
The group sought refuge at the compound after fighting broke out between government and rebels in December.
More than one million people have fled their homes since the conflict began.
Of these, 803,200 have been displaced within the country, and another 254,000 have fled to neighbouring countries, according to a UN report released last month.
The UN has around 8,000 peacekeepers in South Sudan, the world's newest state.
'Horrific and fatal'
Diarrhoeal diseases, respiratory infections and skin diseases had broken out among displaced people at the compound, MSF said in a statement.
The UN's failure to improve conditions was "shameful" , it added.
"In the first rainfall of the season 150 latrines collapsed, mixing with floodwater. People are living in natural drainage channels as there is no other space and there are 65 people per latrine," said Carolina Lopez, MSF's emergency coordinator.
"The rains, which will last the best part of six months, are getting heavier and if nothing is done right now, the consequences, already horrific, could become fatal," she added.
The violence which caused the displaced people to flee erupted on 15 December between pro-government forces loyal to President Salva Kiir and soldiers backing Riek Machar, his former vice-president.
President Kiir accused Mr Machar of plotting a coup, an allegation he denied.
A ceasefire was agreed between the two sides towards the end of January, but they have accused each other of violating it.
South Sudan seceded from Sudan in 2011 after a long and bloody conflict, to become the world's newest state.