Central African Republic: UN votes to send peacekeepers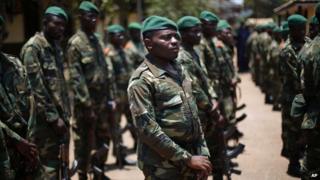 The UN Security Council has voted to send a 12,000-strong force to the Central African Republic (CAR).
UN chief Ban Ki-moon has warned of "ethno-religious cleansing" in CAR, with lynchings, decapitations and sexual violence going unpunished.
The UN resolution also authorises some 2,000 French troops to work alongside the UN peacekeepers.
Thousands have been killed, with about 1.3 million people - a quarter of the population - in need of aid.
Muslim civilians are being targeted by militias in revenge for the seizure of power by mainly Muslim rebels last year.
France already has 2,000 troops in its former colony alongside a 6,000-strong African Union (AU) force, which would be replaced by the UN mission in September.
The resolution, which was adopted unanimously, authorises French troops to "use all necessary means" to provide support for AU troops.
The French-authored resolution gives the UN force the mandate to protect civilians and humanitarian convoys, maintain order, and support the political transition in CAR, AFP says.
Mr Ban, in an exclusive article for the BBC, said that on his recent visit to the country he heard "harrowing tales" of sexual violence, kidnap and constant threats to people's lives.
He called on the international community not to let CAR become "another Rwanda in our time", referring to the 1994 genocide there.
On Wednesday, at least 30 people were killed and another 10 wounded in fighting in the central town of Dekoa, police said.
Predominantly Christian anti-balaka militia members attacked positions held by the mainly Muslim Seleka rebels, they said.
CAR exploded into religious violence amid mounting resentment toward a Muslim-led government.
Muslim rebels seized power in March 2013 by overthrowing President Francois Bozize - who had been in power for a decade.
The rebel leader who replaced him, Michel Djotodia, was accused of failing to prevent his forces from raping, torturing and killing civilians - particularly among the country's Christian majority.
When Mr Djotodia left power under regional pressure in January, Christian militia fighters began attacking Muslim civilians in retaliation.
The country is rich in gold, diamonds and other natural resources but decades of unrest and mismanagement have left most of its people stuck in poverty.