Oscar Pistorius: The charges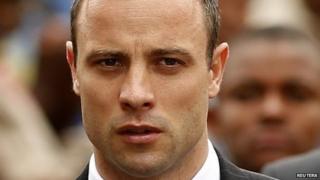 South African Paralympic star Oscar Pistorius is on trial, accused of murdering his girlfriend Reeva Steenkamp but he also faces three other charges.
Pre-meditated murder
The prosecution says Mr Pistorius deliberately shot Ms Steenkamp in the early hours of 14 February 2013 - Valentine's Day following an argument.
He has pleaded not guilty, saying he heard a noise coming from the bathroom and went to investigate. Fearing there was an intruder, he went with a gun in his hand and then fired four rounds in quick succession after hearing a subsequent noise. He says he did not mean to pull the trigger.
He also denies the couple had an argument that night.
If convicted of pre-meditated murder, he could face life in prison.
Culpable homicide
If he is acquitted of murder, under South African law, the judge must then consider whether he is guilty of the lesser charge of culpable homicide, or manslaughter.
Mr Pistoruis has not been asked to plead on this charge but his statement that he did not mean to pull the trigger would imply a not-guilty plea.
On this charge, the judge will need to assign a degree of negligence. The higher the negligence, the longer the prison term. If convicted on this charge, he could face up to 15 years.
Discharging firearms in public - two counts
First count: He allegedly discharged a firearm at Tasha's restaurant on 11 January 2013.
The court heard that this happened at lunchtime, when more than 200 people were present, and children were near their table. The charge not only points to discharging a firearm in a public place but the reckless handling of the said firearm.
Mr Pistorius blamed his friend Darren Fresco for passing him a loaded gun but he denies pulling the trigger. Chief prosecutor Gerrie Nel said it must have been a "miracle".
Second count: He allegedly fired a gun through a car sunroof while with then girlfriend Samantha Taylor and friend Darren Fresco on 30 November 2012.
He has admitted getting angry after a police officer inspected his gun which was lying on a car seat, when they were stopped for speeding.
But he denies firing a gun, as alleged by both Ms Taylor and Mr Fresco.
He could face five years in prison on each count.
Illegal possession of ammunition
Mr Pistorius is charged with being in possession of .38 ammunition, which would be illegal because he does not have a licence for a gun that takes that ammunition, or a permit to be in possession of it or a dealer's licence which would allow him to be in possession of the bullets.
Mr Pistorius told the court the bullets belonged to his father and he had them for safe-keeping. Mr Nel says his father has refused to make a statement confirming this.
The prescribed sentence on this count is 15 years in prison.