Rwanda's Kizito Mihigo and Cassien Ntamuhanga arrested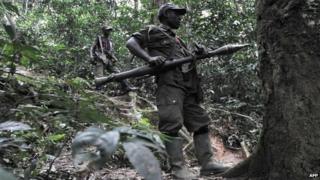 One of Rwanda's best-known musicians and a leading journalist have been arrested and accused of links to an opposition group and rebels.
Cassien Ntamuhanga, the director of a Christian radio station, was arrested on Monday, a police statement said.
Singer Kizito Mihigo was picked up on Friday.
They are accused of links to both the South Africa-based Rwanda National Congress (RNC) and Hutu rebels, based in the Democratic Republic of Congo.
The RNC was co-founding by Patrick Karegeya, who was found dead in South Africa on New Year's Day.
His allies and family, and South Africa, blame Rwanda's government, which denies responsibility.
Mr Ntamuhanga had been reported missing, reports the AFP news agency.
The police accuse the pair, along with former soldier Jean Paul Dukuzumuremyi, of planning "terrorist attacks", with the aim to overthrow the government, to assassinate government officials and to incite violence.
They were alleged to be working with the FDLR rebels, some of whose leaders took part in the 1994 genocide, in which some 800,000 ethnic Tutsis and moderate Hutus were killed.
BBC Great Lakes editor Ally Yusuf Mugenzi says Mr Mihigo used to be close to the governing Rwandan Patriotic Front (RPF), and his arrest has come as a surprise to many Rwandans.
President Paul Kagame came to power as the genocide ended.
He has been hailed for driving rapid economic growth but human rights groups accuse him of not tolerating dissent.