Jordanian envoy kidnapped in Libya attack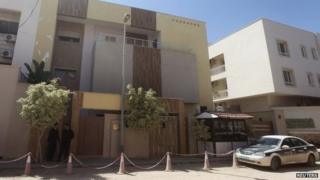 Jordan's ambassador to Libya has been abducted by masked gunmen in the capital, Tripoli, officials say.
Assailants opened fire on Fawaz al-Itan's vehicle, wounding the driver, as they left his house early on Tuesday.
The kidnappers are said to have demanded the release of a Libyan Islamist militant.
It is the latest in a series of abductions in Libya, which has been plagued by instability since the overthrow of Muammar Gaddafi in 2011.
The central government has struggled to assert its authority over the armed groups and tribesmen who helped end Col Gaddafi's 41-year rule.
Diplomat 'unharmed'
Essam Baitelmel, a member of the Libyan team investigating Mr Itan's abduction, said the kidnappers had demanded the release of Mohamed Dersi, a Libyan militant who was jailed for life in 2007 for plotting to blow up an airport in Jordan.
Mr Baitelmel said the kidnappers made their demand in a call to the ambassador's own mobile phone which had been left behind in the car.
The kidnappers said the diplomat was unharmed, Reuters reported.
Libyan Foreign Minister Mohamed Abdelaziz could not officially confirm that the government had received demands from the kidnappers.
Jordanian Prime Minister Abdullah Ensour called on the Libyan authorities to do everything possible to secure Mr Itan's release.
"The Jordanian government holds the kidnapping party responsible for the safety of the ambassador and will take all necessary measures to protect his life and release him," he told parliament in Amman.
The ambassador's sister, Khawala al-Itan, told the Associated Press that he had been subject to previous kidnapping attempts and "was always under threat".
Most of the targets of abductions since the revolution have been Libyan officials, including senior members of the government and their families.
However, in January gunmen detained six Egyptian diplomats and embassy employees for a few days following the arrest of a Libyan militia commander in Egypt.
There have also been attacks on Westerners.
In January, the bodies of a British man and a woman from New Zealand were discovered near the coastal area of Mellitah, in the west of the country, while an American teacher was shot dead in the eastern city of Benghazi in December.
On Sunday, Prime Minister Abdullah al-Thinni said he would step down after what he described as a "cowardly attack" on him and his family by a militia.
He had only been appointed last month after his predecessor, Ali Zeidan, was dismissed by parliament for failing to improve security.