UN mulls peacekeeper medal named after Capt Mbaye Diagne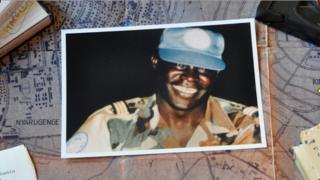 The United Nations Security Council has heard a proposal to create a special medal for bravery in UN peacekeeping.
It was proposed by Jordan's ambassador to the UN, Prince Zeid Ra'ad Zeid al-Hussein, after watching a BBC documentary about Capt Mbaye Diagne.
Capt Diagne was a UN peacekeeper from Senegal who died while working in Rwanda during the 1994 genocide.
In the first two months of the killings he personally saved the lives of hundreds of Rwandans.
'Wit and humour'
Capt Diagne, the subject of the BBC documentary A Good Man in Rwanda, was "the greatest hero the UN has ever had" and the medal must be named after him, Prince Zeid told the UN Security Council.
The BBC's international development correspondent Mark Doyle says the story of Capt Diagne is still not very well known.
But after extensive research a BBC team was able to conclude that he had personally saved hundreds of lives during the 1994 genocide in which an estimated 800,000 ethnic Tutsis and moderate Hutus were killed in 100 days.
He did this by displaying extraordinary courage, wit, and even humour in his dealings with the killers, our reporter says.
The UN as a whole failed in Rwanda, but Capt Diagne, who was killed in a checkpoint explosion not long before he was due to return home, did not fail, he says.
The Jordanian ambassador's proposal for a new medal in his honour will now go through the UN bureaucracy.
But Prince Zeid said he would try to make the UN do "what it should have done years ago".
The medal would honour Capt Diagne by inspiring others to be as brave as him, he said.