Senegal's Karim Wade 'to face corruption trial'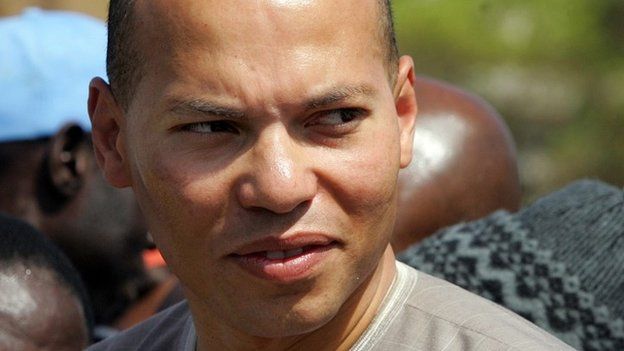 A Senegalese court has ruled that Karim Wade, the son of ex-President Abdoulaye Wade, should stand trial on corruption charges, an official has said.
He was arrested in April 2013 following allegations that he illegally amassed about $1.4bn (£900m) during his father's 12-year rule.
Karim Wade, who was influential in his father's government, denies wrongdoing.
Opposition leader Macky Sall vowed to curb corruption after he was elected president in 2012.
Karim Wade has been in prison since his arrest about a year ago.
Last week, he refused to answer questions from investigating judges, describing the charges as "political and fanciful", the AFP news agency reports.
Soro Diop, an adviser to the justice ministry, said a court had decided that he should stand trial in two months' time.
During his father's rule, Karim Wade held several ministerial posts simultaneously, including minister for infrastructure and air transportation.
His large portfolio led to him being dubbed "the minister of the earth and the sky" and he was alleged to have acquired several foreign firms by illicit means.
His father was defeated by Mr Sall in the 2012 election, after widespread protests against his rule.