South Sudan cattle raid 'claims dozens of lives'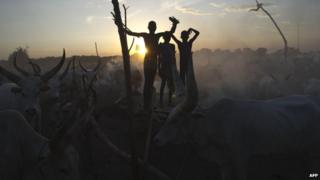 Dozens of people have been killed in a cattle raid in South Sudan's northern Warrap state, local officials say.
Around 28 civilians died during the attack on a remote herders' camp, state information minister Bol Dhel told South Sudanese media.
He said police and soldiers then killed more than 80 of the attackers.
Cattle raids and inter-ethnic clashes have claimed thousands of lives in South Sudan since independence from Sudan in 2011.
They are often part of a deadly cycle of revenge attacks.
Cattle are a main source of wealth and pride for many communities.
Many civilians are armed, and cattle are vital in part because young men need them as dowries to get married, correspondents say.
It is not yet clear whether the Warrap state incident has any links to South Sudan's civil war.
More than one million people have fled their homes in the conflict, some to neighbouring countries, since fighting began in December between supporters of President Salva Kiir and his former deputy, Riek Machar.
South Sudan is one of the world's poorest regions and has hardly any roads, railways, schools or clinics.