Somali MP Isak Mohamed Rino killed by Mogadishu car bomb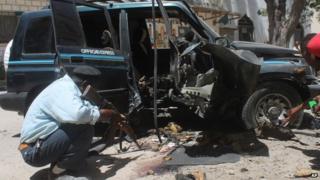 A Somali MP has been killed by a car bomb in the capital, Mogadishu, officials say.
Islamist group al-Shabab told Reuters news agency it was behind the attack on MP Isak Mohamed Rino.
Another MP, Mohamed Ali, was wounded in the blast, which comes as the government hosts a security conference.
Pro-government forces have made gains from al-Shabab in recent years but the al-Qaeda-linked group still controls many southern rural areas.
Prime Minister Abdiweli Sheikh Ahmed condemned the car bomb as a "cowardly attack".
President Hassan Sheikh Mohamud on Sunday opened a three-day conference, saying the "culture of lawlessness that has plagued Somalia for the last 23 years is coming to an end".
Al-Shabab frequently stages attacks in Mogadishu and elsewhere.
Somalia has been ravaged by constant warfare since 1991, when Siad Barre was ousted.