South Sudan conflict: Bentiu 'ethnic slaughter' condemned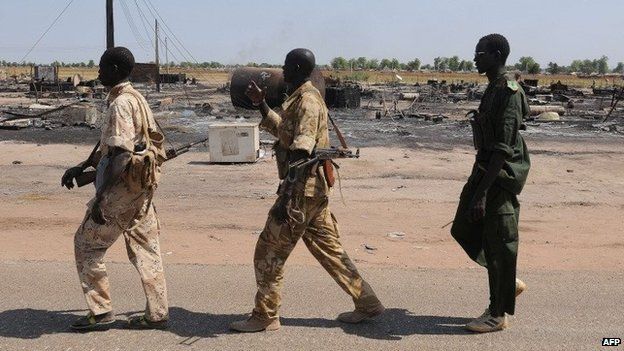 Hundreds of people were killed because of their ethnicity after South Sudan rebels seized the oil hub of Bentiu last week, the UN has said.
It added that hate speech was broadcast on local radio stations, saying certain groups should leave the town and urging men to rape women.
The Nuer community are seen as supporters of rebel leader Riek Machar.
President Salva Kiir is a member of the country's largest group, the Dinka.
Although both men have prominent supporters from various communities, there have been numerous reports of rebels killing ethnic Dinkas and the army targeting Nuers since the conflict broke out in December 2013.
Since then, more than a million people have fled their homes in what was already among the world's poorest nations.
South Sudan analyst James Copnall says that in a civil war marked by numerous human rights abuses, the reports from Bentiu are among the most shocking.
Non-Nuer South Sudanese and foreign nationals were singled out and killed, the UN Mission in South Sudan (Unmiss) said.
Some 200 civilians were reportedly killed at the Kali-Ballee mosque where they had sought shelter.
At the hospital, Nuer men, women and children, who hid rather than cheer the rebel forces as they entered the town, were also killed, it said.
The UN's top humanitarian official in South Sudan, Toby Lanzer, was in Bentiu on Sunday and Monday.
He told the BBC's Focus on Africa programme that the scenes in Bentiu were "perhaps [the] most shocking set of circumstances" he had ever faced.
He said he saw "piles of [the bodies of] people who had been slaughtered" last week, adding that they all appeared to be civilians.
Many of those killed were Sudanese traders, especially from Darfur, Mr Lanzer said.
Analyst James Copnall says they could have been targeted because rebel groups in Darfur are alleged to back President Kiir against the rebels.
One rebel source said many of those killed in the mosque were actually soldiers who had taken off their uniforms.
The situation in South Sudan is "in a downward spiral", Mr Lanzer said, describing the stakes as "very, very high".
There are now more than 22,000 people seeking refuge at the UN peacekeeping base over the border in Sudan, he said, including families from the majority community in the state.
"When I asked them why [they were seeking refuge] they said: 'When the violence has such a cycle of revenge you can't tell what will come next'," Mr Lanzer said.
He added that the UN base was not built for such large numbers, and that there was currently only one litre of drinking water for each of the 22,000 civilians in the base, and one latrine for every 350 people.
Bentiu, capital of the oil-rich Unity State, has changed hands several times during the conflict.
Control of the oilfields is crucial because South Sudan gets about 90% of its revenue from oil.
A ceasefire was signed in January but there has been a recent upsurge in fighting.
Last week, the UN said an attack on one of its bases in the central town of Bor in which at least 58 people were killed could constitute a war crime.
Fighting broke out last year after Mr Kiir accused Mr Machar of plotting to stage a coup.
Mr Machar, who was sacked as vice-president last year, denied the charges but launched a rebellion.
The UN has about 8,500 peacekeepers in South Sudan, which became the world newest state after seceding from Sudan in 2011.
Related Internet Links
The BBC is not responsible for the content of external sites.