South Sudan rebels in 'multiple attacks'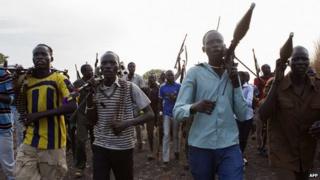 Rebels in South Sudan are involved in fierce fighting with the army in several areas of the country, the military spokesman has told the BBC.
There is ongoing fighting in the north-east of Upper Nile State and the east of Jonglei State, Philip Aguer said.
Earlier, the rebels denied a UN report that they killed hundreds of civilians after taking control last week of the oil hub, Bentiu, in Unity State.
A ceasefire deal in January has failed to halt the violence.
More than a million people have been forced from their homes since fighting broke out in December 2013.
The conflict pits President Salva Kiir, an ethnic Dinka, against his former Vice-President, Riek Machar, from the Nuer community.
'Temporary loss'
Mr Aguer said that the army had also been forced to withdraw from Mayom in Unity State in order to reorganise its forces following the loss of Bentiu.
"The victory that's been achieved by the rebels is temporary, it's just a matter of time [before] they will be out of Bentiu," he told the BBC's Focus on Africa programme.
But he said there were several other fronts on which the rebels were active.
For the last week, the town of Renk in the north-east of Upper Nile State had come under attack from Mr Machar's forces.
"That should be condemned internationally; there is no war where you bombard residential areas indiscriminately at night… [it has] caused havoc and fear."
"I have never seen a movement that have a desire in killing many people as possible as Riek Machar's force."
On Tuesday morning, there had also been "heavy fighting" in several places in Duk county in Jonglei which came under rebel attack, the army spokesman said.
But he said the army had repulsed them and was pursing the rebels.
'Tribal war'
Correspondents say last week's killings in Bentiu are among the most shocking since the conflict began.
The UN said that civilians were killed along ethnic lines at a mosque, a church and a hospital.
Both Mr Kiir and Mr Machar have prominent supporters from various communities, but there have been numerous reports of rebels killing Dinkas and the army targeting Nuers.
Rebel commander Brig Lul Ruai Koang told the BBC on Tuesday that the rebel soldiers had not killed any civilians in Bentiu.
He suggested that government forces and their allies could have been responsible in order to make the conflict appear as though it was "tribal war".
Bentiu, capital of the oil-rich Unity State, has changed hands several times during the conflict.
Control of the oilfields is crucial because South Sudan gets about 90% of its revenue from oil.
A ceasefire was signed in January but there has been a recent upsurge in fighting.
Last week, the UN said an attack on one of its bases in the central town of Bor in which at least 58 people were killed could constitute a war crime.
Fighting broke out last year after Mr Kiir accused Mr Machar of plotting to stage a coup.
Mr Machar, who was sacked as vice-president earlier in 2013, denied the charges but launched a rebellion.
The UN has about 8,500 peacekeepers in South Sudan, which became the world newest state after seceding from Sudan in 2011.