DR Congo train in deadly Katanga derailment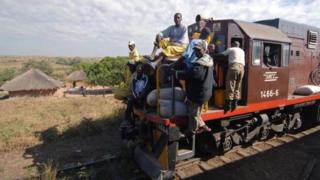 At least 63 people have been killed after a freight train derailed in Katanga in south-eastern Democratic Republic of Congo, officials have said.
It was overloaded with passengers, some of whom were on top of the carriages.
Katanga province's interior minister told the BBC that 80 people were severely wounded and another seven were still stuck under debris.
The train had crashed on Tuesday morning but rescue teams had only arrived in the evening, he said.
Much of DR Congo's rail network dates back to the colonial era and has had little maintenance after years of misrule and conflict.
Government spokesman Lambert Mende said police feared that the number of dead could rise.
He said an investigation had been opened into the cause of the accident.
Jean Marie Dikanga Kazadi, the interior minister for the mineral-rich Katanga region, told the BBC that preliminary investigations suggested the train's driver had been going too fast - at about 60km/h (37mph) when the speed limit was 40km/h.
The driver then tried to slow down for a bend and derailed near the city of Kamina at between 10:00 and 11:00 local time (09:00 and 10:00 GMT), he said.
The train was overloaded with people even though it was supposed to be a goods train, Mr Dikanga Kazadi said.
Agents for the country's public railway company, SNCC, often illegally sold tickets to people to boost their salaries, the minister said.
Rescue efforts had been hampered as emergency helpers only arrived hours after the crash and in insufficient numbers.