South Sudan President Salva Kiir sacks army chief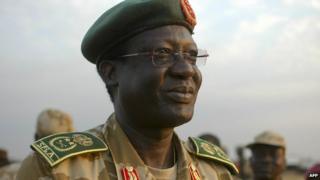 South Sudan's President Salva Kiir has sacked the head of the army following recent rebel advances.
The decree announcing the immediate removal of Gen James Hoth Mai did not give any reason.
The country has been in turmoil since December. Last week rebels seized the oil hub of Bentiu.
Meanwhile the UN has accused the government of providing "erroneous information" regarding a massacre of hundreds of civilians in the town.
South Sudan Minister of Information Michael Lueth was wrong to tell reporters that residents seeking protection had been barred from entering a UN base, the UN mission said in a statement.
After rebel forces captured Bentiu on 15 and 16 April, they targeted hundreds of people who had taken refuge inside a mosque, a church and a hospital, and killed them because of their ethnicity, the UN Mission in South Sudan (Unmiss) said.
"At no point did the mission ever turn away any civilians who came to its camp to seek protection and instead opened its gates to all unarmed civilians," it added.
Setbacks
Correspondents say last week's killings are among the most shocking since the conflict began.
The rebels say the retreating government forces were responsible.
Gen Hoth, is from the same Nuer ethnic group as rebel leader and former Vice-President Riek Machar.
His replacement, Gen Paul Malong, is an ethnic Dinka, like President Kiir.
South Sudan analyst James Copnall says by sacking Gen President Kiir is sending an uncompromising signal to his enemies.
A January ceasefire deal has failed to halt fighting that began in December after Mr Kiir accused Mr Machar of plotting to stage a coup.
More than a million people have been forced from their homes since the violence started.
'Cycle of violence'
Peace talks, which were due to resume on Wednesday in neighbouring Ethiopia, have been delayed until 27 April.
Herve Ladsous, the UN's head of peacekeeping, accused both sides of failing to stop the "cycle of violence" on Wednesday.
Speaking at an emergency meeting of the UN Security Council, he said: "Neither party is ready to in any way cease the hostilities. They do not give indication that they sincerely want to participate in the peace talks."
Bentiu, capital of the oil-rich Unity State, has changed hands several times during the conflict.
Control of the oilfields is crucial because South Sudan gets about 90% of its revenue from oil.
The UN expressed outrage at an attack last week on one of its camps in Bor in Jonglei State, saying it could "constitute a war crime".
That attack by armed youths left at least 58 dead, including children.
Both Mr Kiir and Mr Machar have prominent supporters from various communities, but there have been numerous reports of rebels killing Dinkas and the army targeting Nuers.
The UN has about 8,500 peacekeepers in South Sudan, which became the world newest state after seceding from Sudan in 2011.