Chibok abductions: Nigeria vows to find schoolgirls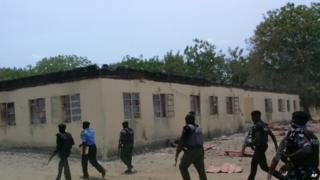 Nigeria's government has vowed to do all it can to rescue some 190 girls abducted from their school last week, following a crisis meeting in Abuja.
Security chiefs, ministers, state governors and religious leaders met to discuss the growing insecurity.
One governor said the abduction was the "issue of the moment" and said the government and army were doing everything they could to rescue them.
But one of the girls' fathers said he just wanted to see his daughter safe.
"We will only say the meeting has achieved something tangible when we see our children back home," the man, whose identity is being protected for security reasons, told the BBC Hausa service.
The government has been widely criticised for its muted response after gunmen abducted some 230 girls from a school in Chibok, Borno state last week. About 40 girls have managed to escape.
Political wrangling
The students were about to sit their final year exam and so are mostly aged 16-18.
No group has said it was behind the kidnapping but Islamist group Boko Haram has been widely blamed.
It has staged a wave of attacks in northern Nigeria in recent years, with an estimated 1,500 killed this year alone.
Earlier in the day that the girls were abducted on 14 April, some 71 people were killed in a rare Boko Haram attack on the capital, Abuja.
After Thursday's security meeting, Ekiti state Governor Kayode Fayemi described the abduction as "the issue of the moment".
"We must do everything to ensure that these abducted children are retrieved and protected. And the military assured us they're doing everything in order to achieve this objective," he said.
Defence Minister Aliyu Gusau said the meeting had also discussed the wider Boko Haram insurgency, as well as a spate of deadly attacks between mainly Muslim cattle herders and Christian farmers in central parts of the country.
BBC Abuja editor Bashir Sa'ad Abdullahi says the major achievement of the meeting was to get political leaders from different parties speaking with one voice.
In recent weeks, the fight against the insurgency has been marred by political wrangling, with officials from the governing People's Democratic Party (PDP) accusing opposition leaders of links to Boko Haram, while the opposition All Progressive Congress (APC) has condemned the government for failing to end the unrest.
The three worst affected states are all run by APC governors and political tensions are rising ahead of elections next year.
Boko Haram, whose name means "Western education is forbidden", is fighting to establish Islamic law in Nigeria. It often targets educational establishments.
It is thought that the militants took the girls to the Sambisa forest near the Cameroonian border.
Parents and vigilante group have gone there to help search for the teenage girls.
Borno, Yobe and Adamawa states in north-east Nigeria have been under emergency rule since last May.