Senegal's Casamance MFDC rebels declare a ceasefire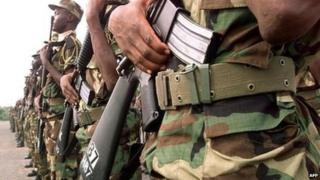 A top Senegalese rebel leader has declared a unilateral ceasefire, raising hopes of ending one of West Africa's longest-running conflicts.
Salif Sadio said he wanted to give the peace process initiated by President Macky Sall a chance.
Mr Sadio leads a rebel MFDC faction fighting for the southern Casamance region's independence since 1982.
A number of peace deals and ceasefires agreed in the past have failed to end the violence.
Thousands of people have been killed in the low-level conflict.
Tourist industry
Mr Sadio told a local radio station that his decision to declare a ceasefire followed talks between the government and his Movement of Democratic Forces of Casamance (MFDC) group in Italy.
Both sides had agreed at the meeting to take steps to facilitate the peace process and end the suffering of people, correspondents say.
The rebels target the army and plant landmines in a region which once had a thriving tourist industry because of its beaches.
In May 2013, 11 demining experts hostage were taken hostage by the rebels. They were released about two months later.
A rival MFDC group signed a peace pact with the government in 2004.
Conflict first broke out over claims by the region's people that they were being marginalised by the Wolof, Senegal's main ethnic group.
Casamance, which is separated from the rest of Senegal by The Gambia, is home to numerous ethnic groups, including many Christians, while northern areas are dominated by three, largely Muslim communities.