South Africa election: Mxit poll says jobs biggest issue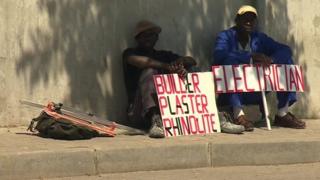 Unemployment is the major issue among young South Africans ahead of next week's election, a BBC poll suggests.
Nearly half of the 1,600 people polled on South African instant messaging application Mxit said jobs were their biggest concern.
Education was the second most popular issue, mentioned by a quarter of respondents. This was followed by basic services, on 11%.
The 7 May election is the first time that those born after the end of apartheid will be able to vote nationally.
The BBC's Pumza Fihlani in Johannesburg says that while local headlines are frequently dominated by stories of violent protests calling for provision of basic services and a lot of attention is paid to crime, corruption and the large numbers of South Africans with HIV, this shows that the most pressing daily concern for people on the ground is the economy.
Almost a quarter of all South Africans are jobless with the unemployment rate around 24% in 2014 up on 1994 20%, according to the South African Institute of Race Relations.
Narnia Bohler-Muller from the Human Social Research Council says 50% of young people who have left school in South Africa are unemployed.
"South Africa is now third in the world, after Greece and Spain, when it comes to youth unemployment," she adds.
Twenty-five-year-old Lionel Dick lives in Uitenhage, Eastern Cape, and has been unemployed for five years.
"I live with 13 people in a four-bedroom house and no-one is employed," he told the BBC.
"I'm a father of four children, and we live in a house with a grandmother and other family members who are also looking for work."
"I'm skilled in many trades including plumbing, but we survive on the private jobs I do once a week or twice a month - it's a struggle."
Syanda Msomi is 26 and has been looking for permanent work since 2008.
He lives in a rural area in Winterveldt, Gauteng.
"I wanted to work in administration but there are only temporary jobs that last for two or three months," he says.
"I have friends who are in the same position as me. I don't know what I'm going to do now."
After unemployment, education was the next area that matters most to people.
Joseph Giacomo is a law student in Gauteng.
He says the cost of higher education is too high.
"I am studying at home because the NSFAs [a government student loan and bursary scheme] didn't come through to some financially disadvantaged students like me."
"I believe higher education should be free, and people should be helped to get a matric qualification to study at higher education."
Luvo Fini in Western Cape says: "I work on a farm and in 2010 I passed grade 12, but due to lack of finance I wasn't able to study further."
"Although I had a diploma I had no bursary or financial assistance - South Africa doesn't care about poor people."
"I'm just going to vote, just to vote, but I've lost hope in this country."
South Africa's election will be held on Wednesday 7 May.
The African National Congress is expected to be re-elected - it has been in power since the end of white-minority rule in 1994.
But many South Africans accuse it of not doing enough to help poor people - a feeling the main opposition Democratic Alliance and the newly formed Economic Freedom Fighters are hoping to exploit.
Mxit users in South Africa can get the latest BBC news on the key issues until the end of the election by adding 'bbcnewssa' as a contact.