Nigeria school abduction sparks social media campaign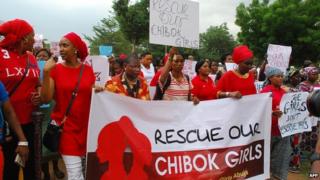 The campaign for more to be done to rescue over 200 schoolgirls abducted by militants in northern Nigeria is attracting growing attention on social media. Figures show the #BringBackOurGirls hashtag, first used on 23 April, has generated more than 360,000 tweets and retweets so far.
Of the 160,000 tweets from users who specify a location, more than half have come from Nigeria, followed by the US, the United Kingdom, South Africa and other countries, according to Crimson Hexagon data.
High-profile pop stars such as US singer Mary J Blige and the UK's Jessie J have picked up on the story, and have generated thousands of re-tweets.
A Facebook page entitled Bring Back our Girls was set up on 26 April, and has almost 6,000 'Likes' so far.
'Inept government'
Nigerian Twitter users express exasperation at the government's failure to rescue the girls, who have reportedly been taken to Sambisa forest where the Islamist group, Boko Haram, is known to have fortified camps.
User @femiTRIPP urged Nigerian President Goodluck to at least be seen to be doing something about Boko Haram:
User @yeancarh_smylez tweeted:
Some users posted photos of the protests, as in this tweet:
Others wondered why the government wasn't using aerial surveillance and intelligence to flush Boko Haram out of the forest. @LafiyaSani asked:
@omojuwa tweeted:
Some commentators called on citizens to take matters into their own hands.
User @stbenjanin tweeted:
User @9japatriot thought the parents who were organizing protest marches were not going far enough.
BBC Monitoring reports and analyses news from TV, radio, web and print media around the world. For more reports from BBC Monitoring, click here. You can follow BBC Monitoring on Twitter and Facebook.