Tunisian assembly approves electoral law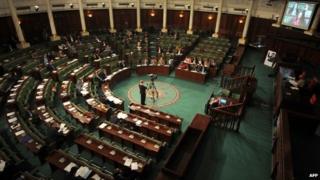 Tunisia's interim parliament has taken one of the last steps towards the country becoming a full democracy by approving a new electoral law.
The move allows officials to set dates for legislative and presidential polls.
It comes three years after the popular uprising that forced Zine al-Abidine Ben Ali to step down as president.
Debate in the National Constituent Assembly was clouded by disagreement over whether officials who served under Ben Ali should be banned from office.
The exclusion measure was eventually rejected by a single vote, however, with the Islamist Ennahda party - which won the elections for the NCA in 2011 - opposing it.
Its main rival, Nidaa Tounes, is led by a former parliamentary speaker under Ben Ali.
"The rejection of political expulsion sends a strong message that our revolution continues, without revenge," Khemais Kessila of Nidaa Tounes was quoted as saying by the Reuters news agency. "It shows that we are avoiding any divisions."
Ennahda, which had led a coalition government since the 2011 elections, handed over power to caretaker Prime Minister Mehdi Jomaa at the start of the year. This followed the approval of a new constitution, under an agreement to end a political crisis triggered by the assassination of two opposition leaders.
Mr Jomaa has ruled himself out as a candidate in the forthcoming elections, for which officials have said they will need between six and eight months to prepare.
One clause of the electoral law imposes male-female parity in party lists.