Julius Malema strikes a chord in South Africa townships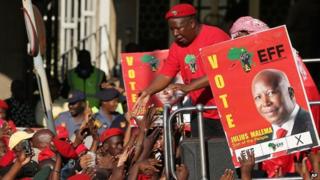 A dozen schoolchildren in blue and white uniforms beat their drums earnestly as they escorted Julius Malema's van down a dirt road and into the impoverished township of Itireleng on a hillside outside Pretoria.
Within seconds, a mood of almost giddy excitement seemed to ripple through the crowd of perhaps 500 people who had gathered on a dusty football pitch in the hot afternoon sun to listen to South Africa's most divisive, boisterous politician make his election campaign pitch.
An aide in a red beret - the catchy trademark of Mr Malema's party, the Economic Freedom Fighters - helped to haul the "Commander-In-Chief's" substantial frame on to the back of a truck, where two loudspeakers were already positioned in front of the crowd.
Mr Malema is 33 and rarely out of the headlines here - a contradictory figure who provokes strong reactions.
To some he is a laughable sideshow, egged on by the media and soon to be imprisoned.
Others fear a bullying demagogue whose populist, Mugabe-esque economic plans threaten to wreck South Africa's economy.
And plenty see him as one of the sharpest critics of all the ills that plague this nation 20 years after the arrival of democracy.
I would settle for a slice of each.
Today, Mr Malema - who faces fraud and racketeering charges as well as bankruptcy stemming from a tax investigation - was wearing his usual man-of-the-people jeans, offset by grey Louis Vuitton shoes, a Burberry shirt, Ferrari jacket and of course his own EFF beret.
South Africa's President, Jacob Zuma, can thrill a crowd with his singing, dancing, and isiZulu wisecracks. But no-one can quite match Mr Malema for his mesmerising blend of thunder and comedy.
In the course of an hour's unscripted speech, he mercilessly ridiculed Mr Zuma for the tax-payers' millions spent on upgrading his private home, and said Nelson Mandela would be spinning in his grave if he could see what the governing African National Congress (ANC) had become, and how a corrupt, narrow elite was profiting at the expense of a marginalised black majority.
But between the jabs and the jokes, what he did most often and perhaps most effectively, was to make promises - to bring water and proper toilets to the area; to double the social grants upon which about 16 million South Africans depend; to seize white-owned land and redistribute it to the poor; to nationalise the mines.
"You must give the ANC a wake-up call. Black people your time is now. Political freedom without economic freedom is an incomplete freedom," he said, to strong applause.
After his speech, Mr Malema plunged into the township, along dirt tracks, past corrugated shacks, communal water pumps and pit latrines. The entire population seemed to surge along in his wake.
Here, at least, it was hard to find anyone who didn't find the EFF's promises enticing - one way or another.
"He's promising us better things. We're going to have jobs, and water, and toilets and houses. We have been in freedom but we have nothing - just promises [from the ANC]," said Millicent Tsategi.
She shrugged off the fraud charges facing Mr Malema. "We are going to give him a chance so he can prove himself to us," she said.
'Let us reprioritise'
Jerry Tlhopane, a veteran ANC activist who told me he had finally broken ranks with the party he still professed to love, said he would be voting tactically on Wednesday - for the EFF.
"If I vote for ANC, I vote for corruption. The ANC has been infiltrated by people who want to get rich quickly. I'm not going to vote EFF because I believe it," he declared. Instead, he said he would vote for Mr Malema's party "because it is tough, it can challenge the ANC… I know the ANC fear them the most - that is the reason".
As Mr Malema plunged deeper into the township's narrowing alleys, I asked him how he responded to critics who say his populist economic policies are a recipe for disaster.
"There's no-one who is scared of me. People are happy to see me here. We are bringing a message of hope," he said, denying that his promise to increase social grants was unaffordable, and cheap populism.
"Cheap populism is building houses for politicians. We must take the money and give it to the needy. We don't have to give politicians expensive cars. Let us reprioritise."
Mr Malema dismissed the criminal charges against him as politically motivated - an attempt by President Zuma and the ANC to silence a man who had once been singled out as a future leader of the governing party before his expulsion.
"I have no case to answer. If they had a case against me they would have locked me up in jail by now."
As for nationalisation, he said: "This is our country - what we do with our country has nothing to do with those who are outside. We want our land back. We want our economy back.
"I'm contesting to be government. I don't get in a boxing ring to be second best. I'm getting in to win. I'm fighting to win."
Despite his claims, Mr Malema scares plenty of people in South Africa - not least in the ruling party.
A few weeks ago I sat with a senior figure close to President Zuma, who described the EFF in almost frantic tones as "fascist" and a very real threat to democracy.
Mr Malema has certainly captured plenty of headlines and will probably win several seats in parliament for the EFF at Wednesday's election.
But polls suggest that nationally, the party is unlikely to gain more than 5% of the vote. An impressive start, but hardly an imminent challenge to the ANC.
And yet it does seem likely that the EFF's radical, left-wing populism will have an impact on the ANC's own agenda, pulling it to the left, as the governing party tries to keep its increasingly shaky alliance with the trade union movement intact.
And besides, who knows if the pollsters have underestimated Mr Malema's support among registered voters?