South Africa election: Does the ANC deserve to stay in power?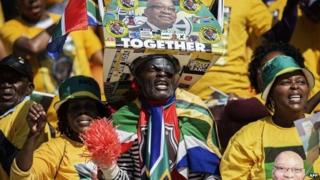 Election campaigns are exhausting things. But Mmusi Maimane seemed to be wrestling with more than the usual sore throat, as he considered the opposition's non-existent chances of unseating South Africa's governing African National Congress (ANC) after 20 years in power.
"It's been a very, very difficult campaign," said the 33-year-old national spokesman for the Democratic Alliance (DA), with a mixture of frustration and impatience, as he described the "onslaught we face from the ANC".
Citing a few incidents of alleged violence, the blocking of advertisements on the public broadcaster, and the co-option of state institutions by the ANC, Mr Maimane suggested "the incumbents are starting to use the same practices as we've seen in other African states, more specifically in Zimbabwe. These trends are beginning… as the ANC start to demonstrate the tendencies of [President Robert Mugabe's] Zanu-PF."
Sour grapes, or spot on?
Across town on Sunday, about 100,000 ANC supporters gathered at the giant FNB World Cup stadium in a daunting show of the governing party's organisational muscle ahead of Wednesday's poll.
It was a joyful affair, with plenty of dancing and music.
"I grew up in poverty but because of the ANC I went to university for free, I studied for free, and now I'm working and getting paid. I'm one of those people who have achieved my dreams," Zanele Ngcobo, 24, told me, insisting that the governing party had the systems in place to tackle corruption.
'Phenomenal organiser'
But tens of thousands began to drift away as President Jacob Zuma launched into one of his more turgidly uninspiring speeches.
Mr Zuma has faced months of fierce criticism for the Nkandla scandal - taxpayers' money lavished on his private residence.
And yet polls suggest that the ANC will once again get more than 60% of the vote on Wednesday - an impressive result for a party that has faced fierce criticism from some quarters for its failure to promote economic growth, and to tackle enduringly high unemployment as well as corruption.
So how come the ANC remains so immune to the electoral disaffection? Here's my list, in no particular order:
Results. The fact is that most South Africans are significantly better off now than they were in 1994.
Loyalty. The ANC remains synonymous with liberation from apartheid in many eyes. Nelson Mandela's recent death has only served to underline those links with the past.
Grants. Millions of poorer South Africans rely on a relatively generous welfare system.
Incumbency. Having never experienced another party in power, it's easy for the many to equate the ANC directly with government - and vice-versa - and to fear a change could mean the end, for instance, of those welfare grants. The ANC does not exactly discourage this perception.
Media. News on the giant SABC has a habit of airbrushing, shall we say, the achievements or arguments of opposition parties.
Spin. The ANC is surprisingly good at blocking, blurring and generally sidelining damaging news like the recent Public Protector's report into the Nkandla scandal.
Race. The ANC has a knack of playing the race card to limit the appeal of its main rival, the DA.
History. The DA doesn't help itself by fudging its own apartheid-era history and by its sometimes-clumsy handling of policy and leadership issues.
Divisions. The opposition is split, and likely to remain so, making it easier for the ANC.
Logistics. With more than a little help from state institutions, the ANC is a phenomenal organiser, and mobiliser, above all when it comes to elections.
Tenders. The government's Black Economic Empowerment scheme has created a class of new entrepreneurs who are often dependent on state contracts, and so inclined to favour the ANC.
The alliance. Although this is showing signs of serious wear-and-tear, the long-term partnership between the ANC, the Communist Party and the trade union federation Cosatu, has been effective at preventing a credible union-led opposition party to emerge as it did in Zimbabwe.
Individuals. They're not so important in the ANC - hence the fact that President Zuma's unpopularity isn't damaging the wider party.
There is a theory about the "30-year-rule" for liberation movements - the amount of time that history suggests they can expect to hold onto power having won a democratic election. On current voting trends, South Africa could yet be on track to shore up that premise.