New urgency in Nigeria social media campaign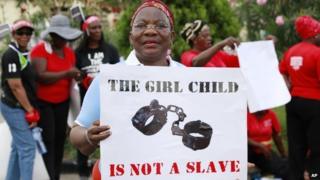 Twitter users around the world are not letting up in their demands for the release of the Nigerian schoolgirls abducted by Boko Haram militants.
#BringBackOurGirls has been tweeted or retweeted more than a million times since 23 April, when it was first used.
Along with pop stars, prominent voices like those of Unicef, Amnesty International and Hillary Clinton have come on board, reflecting a growing internationalization of the campaign.
Of 550,000 posts with an identifiable location, a little under half were posted from Nigeria, followed by the US, the UK and South Africa, according to Crimson Hexagon data.
A threat by Boko Haram's leader Abubakar Shekau to sell the girls has given a new urgency to some of the tweets.
User @ogundamisi and @nigeriasbest express frustration and disillusion not only with Abubakar Shekau, but with the environment that allowed him to flourish in Nigeria.
User @UCHEUGO worries that the Boko Haram leader is giving the wrong impression about Islam.
Others hope the video message will prompt the authorities to take concrete steps.
But many users, like @ocupynigeria, have little faith in the army's abilities.
BBC Monitoring reports and analyses news from TV, radio, web and print media around the world. For more reports from BBC Monitoring, click here. You can follow BBC Monitoring on Twitter and Facebook.