US experts join hunt for abducted Nigerian schoolgirls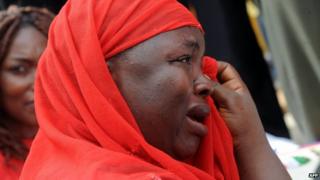 A team of US experts has been sent to Nigeria to help find more than 200 schoolgirls abducted last month by the Islamist militant group Boko Haram.
US President Barack Obama said the team comprised personnel from military, law enforcement and other agencies.
He said he hoped the kidnapping might galvanise the international community to take action against Boko Haram.
Earlier, it emerged that eight more girls had been abducted in north-eastern Nigeria by suspected militants.
The latest kidnapping happened on Sunday night in the village of Warabe in Borno state. The girls taken were aged between 12 and 15.
A further three girls have since been seized from another nearby village, a local official told the AFP news agency.
On Monday, Boko Haram leader Abubakar Shekau threatened to "sell" more than 230 girls seized from their school, also in Borno, on 14 April.
The US deployment comes as the World Economic Forum for Africa is being held in the Nigerian capital, Abuja, amid tight security, following two recent attacks there blamed on Boko Haram.
Several African leaders are expected to attend, along with Chinese Premier Li Keqiang. Schools and government offices have been closed.
'Heartbreaking'
Growing international outrage led the US to offer the Nigerian government help and, on Tuesday, Mr Obama confirmed that the offer had been accepted.
"We have already sent in a team to Nigeria... a combination of military, law enforcement, and other agencies who are going in, trying to identify where in fact these girls might be," he said.
Mr Obama described the abduction as "heartbreaking" and "outrageous".
"This may be the event that helps to mobilise the entire international community to finally do something against this horrendous organisation that's perpetrated such a terrible crime," he added.
Boko Haram - whose name means "Western education is forbidden" - is seeking to overthrow the government and create an Islamic state in the north of Nigeria.
Its insurgency has left thousands dead since 2009.
US officials have said the first group of abducted girls, aged between 16 and 18, may have already been smuggled over Nigeria's porous borders into countries such as Chad and Cameroon.
However, officials in Chad and Cameroon say they do not believe the girls are in their countries.
US Secretary of State John Kerry said on Tuesday that Washington will set up a co-ordination cell at its embassy in Abuja with US military personnel, law enforcement officials and experts in hostage situations.
He was speaking after talks with EU foreign policy chief Catherine Ashton.
The UK has also offered to help the Nigerian authorities in their search, British Foreign Secretary William Hague said on Tuesday, without specifying what form the assistance would take.
Criticism
Baroness Ashton said the girls' kidnapping was "devastating for all of us".
"These are the future of the country," she said.
President Jonathan said his country's security agencies "would appreciate" the deployment of US counter-insurgency expertise.
The Nigerian government has been criticised at home and abroad for what some say is a slow response to the abductions.
President Jonathan has said they are doing everything they can.
In the latest kidnapping, gunmen arrived in two trucks and also seized animals and food from the village of Warabe.
Warabe is also close to the Sambisa forest, where the first group of schoolgirls is thought to have been taken.