Kenya arrests over deaths from illicit alcohol trade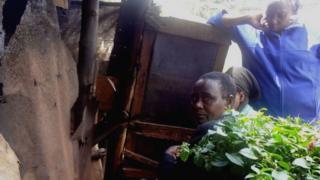 Two people have been arrested following the deaths of 70 people in Kenya after drinking homemade alcohol believed to be laced with industrial chemicals.
Police are hunting for other brewers who have gone into hiding since their customers died or went blind.
The BBC's Frenny Jowi says some Kenyans are angry that more is not being done to clamp down on the illicit trade.
Officials in the five areas where the deaths occurred have been indefinitely suspended, the government says.
Consumption of homemade brew is popular in Kenya, where many people cannot afford to buy standardised alcohol.
Officials say the alcohol consumed on Sunday in five counties of Central and Eastern Provinces may have contained methanol - a toxic substance used to boost the strength of the drink.
Our correspondent says such liquors are often known locally as "changaa" or "kumi kumi" and most villages will have a producer who is usually illicit.
In a move to regulate the trade in 2010 the government allowed production as long as it was commercially bottled and sold at licensed premises.
This led to some producers branding their drinks, but the plastic bottles the liquor comes in are easily adulterated and can be injected with chemicals, our correspondent says.
'Drinkers hid in bushes'
Relatives of those who died in Kiambu county, an hour's drive from the capital, Nairobi, are in shock, she says.
Alice Wairumu said she lost her two adult sons and her husband.
"On Monday they started to feel unwell; they didn't go to work at the construction site as usual. Later I had to take them to hospital for treatment," Ms Wairumu told the BBC's Focus on Africa programme.
"After being discharged, my husband told me that he was seeing everything in blue, I asked him if the cow was blue, he said 'yes'," she said.
According to government figures, 10 people died in Kiambu, a lush agricultural area where many people who work on tea and coffee plantations are poor.
Ms Wairumu's brother-in-law, Joseph Mau, said this included two of those involved in brewing in the area.
"This place is conducive for drinking because we have bushes here and these drinkers have places to hide when they hear the police coming," he said, adding that this was why Kiambu attracted drinkers from surrounding areas.
A woman in Kiambu's small shopping centre told the BBC she had managed to send her son to rehab but many young men were being lost to "poisonous" brews.
Other residents expressed despair about the situation, our reporter says.
Under Kenyan law, those who are found guilty of adulterating alcoholic drinks can by jailed for five years or face a $114,800 (£67,713) fine.
Those who died had drunk liquor from different producers in Embu, Kiambu, Kitui, Makueni and Murang'a counties.
Our reporter says there is a possibility that they all bought their chemicals from the same dealer.
A government statement said 181 people were still in hospital being treated.
It also advised Kenyans to avoid "taking alcoholic drinks packaged in sachets, plastic bottles and jerry cans because such drinks are easily adulterated".
In 2005, more than 45 people died after drinking illegal alcohol laced with methanol.