Oscar Pistorius trial: Week seven round-up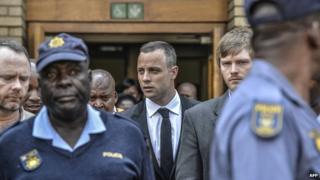 Oscar Pistorius returned to court in Pretoria this week after the judge adjourned the trial for a two-week break over Easter.
The case restarted with defence calling two of the athlete's neighbours to describe the moment they found him carrying the body of his girlfriend Reeva Steenkamp down the stairs of his house.
Here is how our reporters covered the big moments, via tweets and video reports, in the seventh week of the trial.
Day 25 - Monday 5 May
Day 26 - Tuesday 6 May
Day 27 - Thursday 8 May
Day 28 - Friday 9 May