South Sudan ceasefire violated, rebels and government say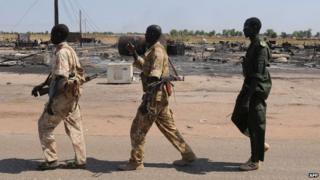 The army and rebels in South Sudan have accused each other of breaching a ceasefire, only hours after it was meant to come into effect.
The army said rebels attacked government positions in the early hours of Sunday in the town of Bentiu in oil-rich Unity State.
The rebels said their positions were targeted by ground attack and artillery in Unity and Upper Nile states.
A deal to end the five-month conflict was signed on Friday in Ethiopia.
At the signing ceremony in Addis Ababa, President Salva Kiir and rebel leader Riek Machar met face-to-face for the first time since hostilities broke out and agreed to halt fighting within 24 hours.
But in a statement issued on Sunday, rebel military spokesman Lul Ruai Koang said the reported violations showed "that Kiir is either insincere or not in control of his forces."
For the army, spokesman Philip Aguer said the rebel attacks in Bentiu had been repelled.
There has been no independent verification of either side's claims.
A previous deal, made in January, collapsed in days, with each side accusing the other of breaching terms.
Earlier, the UN called on both sides to facilitate deliveries of emergency aid to a population in danger of mass hunger.
The UN estimates that some five million of South Sudan's citizens are in need. At least 1.5 million have been displaced and thousands of people have been killed.
Toby Lanzer, the UN's top aid official in the region, said roads and rivers must be opened for emergency relief.
The hope had been that the ceasefire would pave the way for the creation of a transitional government, the drafting of a new constitution and fresh elections.
'Crimes against humanity'
The UN has accused both the South Sudanese government and the rebels of crimes against humanity, including mass killings and gang-rape.
The violence began when President Kiir accused his sacked deputy Mr Machar of plotting a coup.
Mr Machar denied the allegation, but then marshalled a rebel army to fight the government.
The battle assumed ethnic overtones, with Mr Machar relying heavily on fighters from his Nuer ethnic group and Mr Kiir from his Dinka community.
The UN has about 8,500 peacekeepers in South Sudan. However, they have struggled to contain the conflict.
South Sudan gained independence in 2011, breaking away from Sudan after decades of conflict between rebels and the Khartoum government.