Letter from Africa: Should Nigerians shout louder?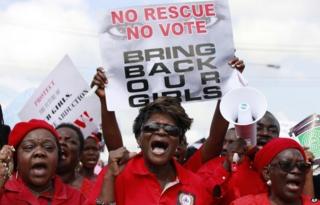 In our series of letters from African journalists, Ghanaian writer Elizabeth Ohene argues that the public's response to the abduction of more than 200 schoolgirls in Nigeria on 14 April could be louder.
I cannot remember the last time I felt this sense of complete and total impotence.
Almost 300 school girls are abducted in Nigeria and it seems the only way to demonstrate the sense of outrage I feel is through the hashtag #BringBackOurGirls
I am not in any way trying to demean the efforts of the likes of Michelle Obama and Angelina Jolie on the celebrity front and the millions of other people who have taken to social media to publicise the plight of the girls. But it seems to me to be such a pathetically feeble protest.
Here am I in Ghana's capital, Accra, in a country that sees itself as having a special relationship with Nigeria and I cannot begin to comprehend anything about the entire tragedy.
Pristine forests?
I cannot understand how come there has not been a specific figure on the number of children who have been abducted by Boko Haram, the militant Islamist group; the figure has ranged from 129 to about 200 to 276 and I am thoroughly ashamed to have to say "about 300".
Am I to understand that there still exists in Nigeria such pristine dense forest in which you can hide 200 girls?
That surely must be the only good part of this entire sorry story. Thanks to illegal mining all our forests in Ghana are gone.
I cannot understand how it came about that four days after the girls were abducted, military spokesman Maj-Gen Chris Olukolade announced that most of the girls had been rescued. It is not enough that this statement was later retracted.
Military spokesmen simply do not make such statements without any basis.
I cannot understand why it took two weeks before President Goodluck Jonathan told his compatriots what the government was doing about the matter.
I cannot understand how come it has been so difficult for the correct narrative to emerge; imagine my surprise to now discover that the school in Chibok from where the children were abducted is not a girls school as had been reported for weeks but a mixed school and the boys are not boarders.
Over here in Ghana the story has been treated in the media as "and now for the foreign news section". It has not made the lead story on any of our radio stations or newspapers.
Three weeks after the event and after the US and UK entered the attempt to find the girls, our President John Dramani Mahama, who happens to be the current chairman of the West African regional body, Ecowas, announced he had written to Mr Jonathan and is calling a meeting of regional heads of security.
I have thought about going to stand in front of the Nigerian High Commission here in Accra with a placard; I have thought about taking the plane to Abuja and joining in the demonstrations being staged by the parents but it all seems so pathetically feeble.
I recall the energy, the anger, the noise level that engulfed Nigeria when President Jonathan wanted to remove subsidies on petroleum products in 2012.
The entire country stood up as one, the people screamed, argued, blocked roads, nobody left the fight for a colleague to take on and no organization was expected to lead the fight, every Nigerian felt personally challenged and together they made the government retreat.
I cannot feel a similar sense of united anger and determination to overcome.
But my own position is particularly pathetic as I cannot even tweet hashtag #BringBackOurGirls, for I am not on Twitter and Facebook.
If you would like to comment on Elizabeth Ohene's column, please do so below.