Nigeria kidnapping: How can foreign teams help?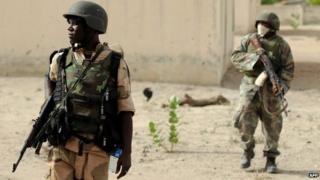 The arrival in Nigeria of foreign teams of experts to assist in finding and freeing the kidnapped schoolgirls raises expectations of a speedy resolution. Britain, the US, France, China and Israel have all now sent teams of counter-terrorism officials and other specialists to Abuja. But what can they actually achieve?
Advice
Britain has sent a mixed team, led by the Foreign Office, with components from the Metropolitan Police, the Ministry of Defence, the Department for International Development and the intelligence agencies.
Rescuing the girls is a Nigerian-led operation and any input from international teams will be advisory only.
That said, it has taken considerable and repeated pressure from world leaders to persuade the Nigerian government to accept outside help.
Early offers were rebuffed amid false claims from Abuja that "most of the girls had been rescued" and Nigerians have expressed outrage over their government's slow response to the kidnapping.
The international teams are now treading a delicate diplomatic path in helping the Nigerian authorities focus their efforts more effectively without causing offence by appearing to interfere.
Hostage negotiation
The US team, and possibly others, include highly experienced hostage negotiators.
It is clear from the hostage video released by Boko Haram on Monday that the group wants to negotiate, even if their initial demand - the release of their own prisoners from Nigerian prisons - is unacceptable to the government in Abuja.
Any negotiations are likely to be conducted by the Nigerian authorities, not foreigners. But amongst the advice given by the latter to Nigeria will be to avoid doing anything that precipitates Boko Haram into harming the girls.
A military rescue, even by special forces, would be extremely risky and there is an unfortunate precedent here.
In 2012, a British and an Italian hostage were both murdered by their extremist captors in northern Nigeria as a joint UK-Nigerian team of commandos closed in on their hideout.
Signals intelligence
Not surprisingly, no-one in-the-know is commenting on this shadowy angle but it is bound to feature in behind-closed-doors planning discussions.
Intelligence agencies from several countries, especially the US, have a substantial capability to eavesdrop on any radio or digital communications.
If the initial kidnapping of the girls on 14 April had been directed by people outside the region, such as al-Qaeda in Pakistan, then signals intelligence would probably have revealed it.
As it is, Boko Haram will be trying to minimise their communications to avoid finding themselves located and surrounded by Nigerian government forces.
Satellite and aerial surveillance
China, which has huge commercial interests in Africa, has publicly offered to share with Nigeria any satellite or other intelligence that could help rescue the girls.
The US, which has an extensive array of satellites, is sharing commercial satellite imagery with Nigeria.
There is also the possibility of drones being used, although the US has reportedly denied that any of its unmanned aircraft are involved.
In recent months there has been extensive drone surveillance over the vast desert wastes of the Sahel countries, mainly in support of the French military's Operation Serval against remnant forces of al-Qaeda in the Islamic Maghreb (AQIM).
The US Reaper drones have a range of 1,000 miles to station where they can then linger over a target area for hours at a time, often at such a great altitude they cannot be detected.
Administration officials have said the US is flying manned ISR (intelligence, surveillance and reconnaissance) assets over Nigeria, with the government's permission.
Family liaison
The BBC understands that amongst the specialists sent to Nigeria from Britain are family liaison officers from the Metropolitan Police who are advising the authorities there on how best to support the traumatised parents and relatives of the kidnapped girls.
Capacity building
There is a feeling in Whitehall that whatever Britain can do to help resolve this particular mass abduction is distinctly limited.
What No 10, the Foreign Office and other departments are all trying to prevent is a repetition of this kidnapping.
That means offering advice to the Nigerians on how to boost their security, governance and education in areas where Boko Haram are active and sharpening up the response by the authorities to timely warnings.
Amnesty International insisted last week that it had gathered credible testimonies from officials that government forces had four hours warning of the raid on the Chibok school but that they failed to send a sufficient force to protect it.