Pistorius trial: Prosecution applies for mental tests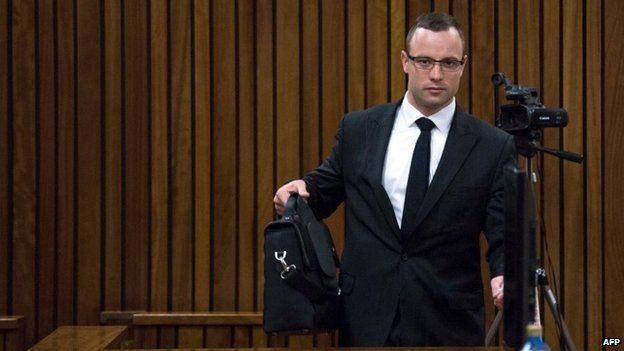 The prosecution in the trial of South African Olympic athlete Oscar Pistorius has formally requested that he undergo a mental observation.
Prosecution lawyer Gerrie Nel made the application after forensic psychiatrist Merryll Vorster said the double amputee was "a danger to society".
Judge Thokozile Masipa said she would announce her decision on Wednesday.
Mr Pistorius denies intentionally killing his girlfriend Reeva Steenkamp on Valentine's Day last year.
He says he accidentally shot her through the toilet door in a state of panic, mistaking the 29-year-old model and law graduate for an intruder.
The prosecution accused the defence on Tuesday of changing its plea - from putative self-defence to a psychiatric disorder.
Mr Nel said that a "psychiatric evaluation was essential" and it was in the interests of justice for the accused to be referred.
The defence is vigorously resisting the prosecution move, which it argues is "manifestly absurd".
Dr Vorster told the court earlier that she would not say that Mr Pistorius had "a mental illness" and that he was "still able to function at high level as an athlete and still able to socialise".
But she said that people with Generalised Anxiety Disorders (Gads) like Mr Pistorius probably should not have firearms.
She said that Gad would not "render you unfit to stand trial".
The BBC's Andrew Harding says that the psychiatrist shored up the defence's argument that Mr Pistorius does not need mental evaluation.
On Monday she said that the athlete had had an anxiety disorder since childhood and was "anxious" about violent crime.
His actions on Valentine's Day last year "should be seen in context of his anxiety" and would have been different from "normal, able-bodied person", she said.
If the prosecution request is granted, Mr Pistorius may spend up to 30 days in a state mental health institution for observation and assessment of his mental health.
Court sources have indicated that it is unlikely the judge will grant the prosecution its request, our reporter says.
There are no juries at trials in South Africa, so the athlete's fate will ultimately be decided by the judge, assisted by two assessors.
If found guilty, Mr Pistorius - a national sporting hero dubbed the "blade runner" because of the prosthetic limbs he wears to race - could face life imprisonment.
If he is acquitted of murder, the court must consider an alternative charge of culpable homicide, for which he could receive about 15 years in prison.
Related Internet Links
The BBC is not responsible for the content of external sites.