Libya sets Benghazi no-fly zone after clashes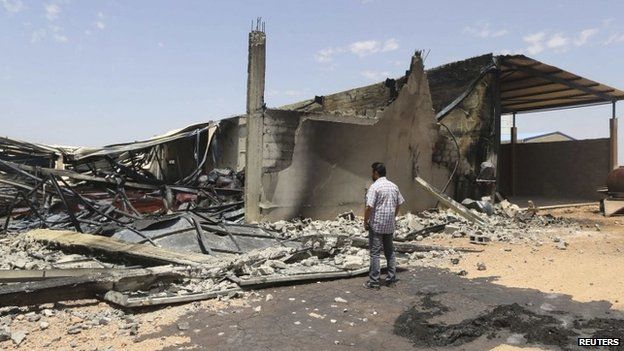 A no-fly zone has been imposed over Libya's second city of Benghazi, the army has announced.
The move follows clashes between a paramilitary force and Islamist militants which resulted in 43 deaths and more than 100 injuries.
There have also been regular clashes in Benghazi between the army and militants blamed for killing security personnel.
Libya's leaders have struggled to bring stability to the country since Muammar Gaddafi was removed from power in 2011.
A planned new constitution remains unwritten and the country has had three prime ministers since March.
The eastern city of Benghazi was at the heart of the anti-Gaddafi uprising.
The BBC's Rana Jawad in the capital, Tripoli, says that the no-fly zone declared by the army chief is an attempt to prevent the new paramilitary force from using air power against Islamist militias in Benghazi.
Our correspondent say that it is unclear how the army will deliver on its statement to shoot down any military aircraft flying over the city.
The Libyan army declared the no-fly zone after forces of retired colonel and former rebel commander Khalifa Haftar used at least one helicopter during fighting on Friday.
Col Haftar also launched a ground assault on Benghazi's Islamist militia brigades.
He said that although his troops had temporarily withdrawn from the city for tactical reasons, the operation will continue until "Benghazi is purged of terrorists".
"We'll come back with force," Col Haftar told reporters in Abyar, a small town to the east of Benghazi.
"We've started this battle and will continue it until we have reached our goals.
"The street and the Libyan people are with us."
On Saturday Col Hafter's spokesman called on residents living in three western districts of Benghazi - where most of the Islamist militias are based - to leave their homes.
Meanwhile in Tripoli, parliamentary speaker and military commander-in-chief Nuri Abu Sahmain said Col Hafter was trying to stage a coup.
Our correspondent says that Libya has a complex web of militants and some members of the army and air force are part of the paramilitary force.