Oscar Pistorius judge not swayed by court theatrics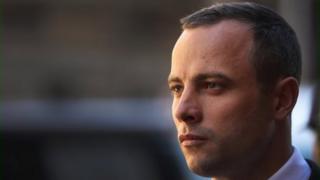 Oscar Pistorius appeared relaxed in court as the judge told him to report next Monday morning to Weskoppies Psychiatric Hospital - a grand, old, red-brick building on the edge of Pretoria.
He'll be treated as an outpatient, spending each weekday being evaluated by three experts - one from the defence, and two appointed by the state - before returning to court on 30 June.
The purpose is to confirm if the athlete is suffering from a Generalised Anxiety Disorder - as earlier diagnosed by a defence expert - and to what extent that could have affected his behaviour the night he shot Reeva Steenkamp.
It's another twist - and another big delay - in a trial that has not lacked for drama these past 30-something days.
Sitting in court behind the athlete, for his relatives and those of Ms Steenkamp, it's been very hard not to get caught up in the sheer theatricality of the process - the tears, the anger, the confrontations, the elusive facts at the heart of the case.
And let's not forget the live television broadcast.
At stake is the court's understanding of Mr Pistorius' state of mind at the moment he pulled the trigger.
The defence says the "anxiety disorder" in no way affects the athlete's ability to distinguish right from wrong, but does help to explain his sense of vulnerability and his instinct to confront a perceived threat rather than to flee.
The prosecution - either seeking greater clarity, or trying to nip a new defence tactic in the bud - insists that, since the law does not spell out the difference between a mental "disorder" and "illness," more tests are appropriate.
Last week Barry Roux and Gerrie Nel were battling it out - defence vs prosecution - like two grand Shakespearean actors.
There was bluster and indignation; disappointment and quiet cunning. A touch of embittered Malvolio, or wronged Othello from Roux? And what to make of Nel - a deferential Iago at times? Or an ingenious Portia?
Or maybe we should stick with the small screen… How about Rumpole vs Denny Crane?
It is all riveting stuff. A more accurate word, dare we admit it, might be entertaining.
But last week Judge Thokosile Masipa helpfully reminded us all, not for the first time, that the emotions and the posturing in court are almost entirely beside the point. There is no jury to sway here. No foreman to impress. There is only the judge herself.
Sometimes you can see a twinkle in her eye, or a flash of irritation, as Mr Nel and Mr Roux launch into a new pas-de-deux.
But as Judge Masipa made clear last Thursday in her sober ruling on the prosecution's request for a psychiatric referral, it is not the antics of the lawyers that really interest her - only the law, the court transcript, and each side's written arguments based on the evidence they've managed to elicit from each witness.
Mr Pistorius's family - who make little secret of their visceral dislike of the prosecution's tactics - seemed themselves to take a step back from the drama, issuing a brief statement which amounted to a relieved endorsement of the judge's good sense.
And so yes, there will be a long delay, and no doubt more abrasive cross-examination of defence witnesses thereafter. But as distracting as the tears and tactics in court can be, in the end it will boil down to what's left on paper - time lines, analysis, extrapolations, and diagnoses.