Uganda HIV nurse Rosemary Namubiru jailed by Kampala court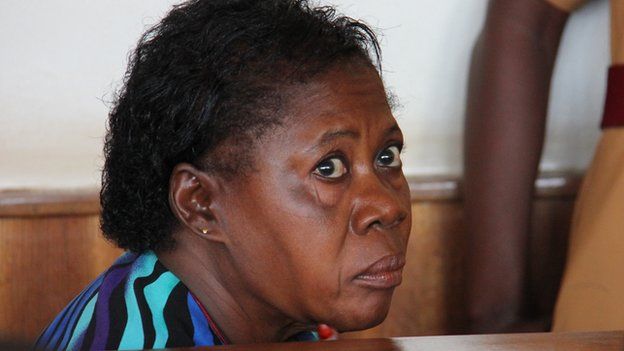 A Ugandan court has sentenced a nurse to three years in prison for negligence over the potential infection of a two-year-old boy with HIV.
Rosemary Namubiru, who is HIV-positive, was criminally negligent by using an intravenous needle, that she had accidentally pricked her finger with, on the child, the court ruled.
The child was not infected and HIV/Aids activists condemned the trial.
The case was keenly watched and some papers dubbed her the "killer nurse".
The boy's father, Daniel Mushabe, welcomed the ruling, saying he hoped the case would spur President Yoweri Museveni to sign into law a bill which criminalises the transmission of HIV.
The bill - already approved by parliament - says anyone who wilfully passes on HIV could face a fine of $1,900 (£1,130), a 10-year jail term or both.
Namubiru's five-month trial has been closely followed in Uganda, reports the BBC's Patience Atuhaire from the capital, Kampala.
Many members of the public were condemned the nurse, while HIV/Aids activists defended the 64-year-old, our reporter says.
Handing down sentence in a packed court room, chief magistrate Olive Kazaarwe said Namubiru lacked remorse for her actions.
Namubiru, a paediatric nurse with 30 years' experience, had maintained her innocence during the trial, and the boy was not infected with the virus.
Her lawyer David Kabanda said he was unhappy with the ruling, and was considering what to do next.
Namubiru said she had decided to administer intra-venous fluids through the boy's arm, but had difficulty finding a vein in which she could insert the needle.
It was then that she accidentally hurt her finger, but had no intention of passing the virus to the boy, she said.
Welcoming the ruling, Mr Mushabe said he hoped doctors and nurses will now "think twice" in future when treating patients.
"It is extremely hard to feel happiness in such circumstances without really getting to the bottom of the matter and finding out why Namubiru, without any provocation, went out of her way to infect our child," he said.
HIV/Aids activists said the nurse had not acted maliciously, and her life had been ruined.
The public anger towards her show the stigma people with HIV/Aids still face, they said.
Uganda won worldwide praise for its vigorous campaign against HIV/Aids, which helped reduce the prevalence of the virus - which reached 30% of the population in the 1990s - to single-digit figures.
However, the rate has started to rise again in recent years.
Related Internet Links
The BBC is not responsible for the content of external sites.