Tuareg rebels 'free Mali hostages'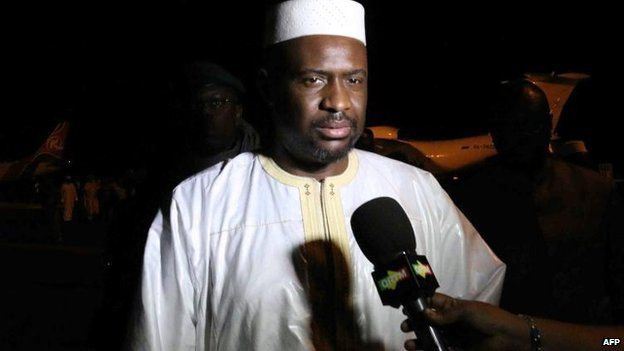 Some 28 hostages abducted by Tuareg rebels in northern Mali on Saturday have been freed, the UN says.
The hostages, most of them civil servants, were taken when rebels launched an attack in the town of Kidal to coincide with a visit by the PM.
Moussa Mara had been visiting to try to revive peace talks with the rebels.
There was no word on any negotiations behind the release but the UN peacekeeping force said the hostages were in a reasonable condition.
An official from the UN force, known as Minusma, told Agence France-Presse: "We have just taken back the hostages. They are in not bad condition. Two are very tired."
Some 32 hostages were taken on Saturday but four who had been wounded were released the same day.
The rebel National Movement for the Liberation of Azawad (MNLA) confirmed in a statement that its members had delivered the rest of the hostages to aid workers and peacekeepers.
A spokesman told the BBC it was a humanitarian gesture.
The army said eight soldiers and 28 rebels were killed in Saturday's fighting, but the MNLA denied losing any fighters.
Officials say that a Senegalese peacekeeper and eight civilians were also killed.
The rebels continue to occupy the governor's office in Kidal - a move the Malian government denounced as a "declaration of war".
In 2012, a Tuareg rebellion in northern Mali triggered a military coup.
Civilian rule was re-established in 2013 amid a French-led military intervention, but Islamist and separatist forces remain active in some areas.
Earlier on Monday, French President Francois Hollande had demanded the release of the hostages.
The BBC's Christian Fraser in Paris says Mr Hollande had perhaps been stung by criticism of the French forces and the president pledged a full investigation into "unacceptable violence".