Central African Republic's Seleka rebels reorganise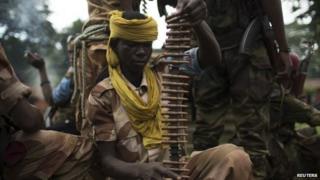 The Seleka rebel group in Central African Republic (CAR) says it has reorganised itself to exercise greater control over its fighters.
The government condemned the move, saying the group had seized state property in the north.
The mostly Muslim rebels have been involved in heavy fighting with mainly Christian fighters in the anti-balaka militia since March 2013.
The conflict has displaced about 25% of CAR's 4.6 million population.
The African Union, France and the European Union have about 7,000 troops battling to end the conflict.
'Parallel army'
Seleka co-ordinator Abdoulaye Hisseine said the group had put in place a new chain of command to rein in its fighters in the north.
"Do you really want us to let loose all these Seleka fighters, without any sort of organisation which will watch over them? If so, fine then. If not, that is the only way to keep them under control," he said.
BBC French Service analyst Abdourahmane Dia said Seleka still controls large parts of northern CAR, and some central areas, despite losing power in January.
Its leader, Michel Djotodia, was forced to resign as president after failing to curb the violence that broke out after Seleka seized power in March 2013.
Mr Djotodia was the first Muslim ruler in CAR, which has a majority Christian population.
CAR Prime Minister Andre Nzapayeke said "irregular forces" had already occupied government buildings in Bambari town and "we are being told of the installation of army staff".
Seleka was creating a parallel army and police force, he said.
"These acts are nothing less than an attempt for a partition of the country," he said.
The UN has pledged to send some 12,000 peacekeepers to CAR amid fears of a genocide.
No date has been set for the deployment.
Thousands of people have been killed in the conflict.