Mali: Tuareg rebels 'defeat government army in Kidal'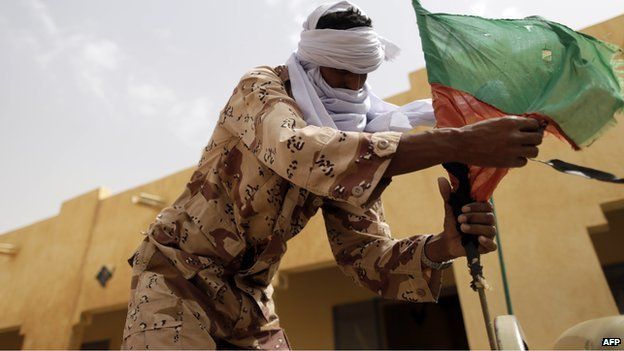 Tuareg rebels in Mali say they have defeated government forces in heavy fighting for control of the key northern town of Kidal.
Several government soldiers were killed or captured, a rebel spokesman said.
The government admitted its troops had retreated and the president called for an immediate ceasefire.
Fighting first broke out on Saturday when Mali's Prime Minister Moussa Mara visited Kidal to show support for government forces based there.
The renewed fighting threatens to end efforts to revive peace talks with the rebels, who belong to the National Movement for the Liberation of Azawad (MNLA).
The group is fighting for the independence of northern Mali.
Control of Kidal was split between the MNLA and the government.
The BBC's Alex Duval Smith reports from the capital, Bamako, that both sides brought in reinforcements for Wednesday's battle.
Fighting began when the Malian army fired rockets on the governor's compound, which had been held by the MNLA since Saturday, she says.
The MNLA said they had defeated government forces after six hours of fighting, and their flag was flying over the military base in Kidal.
Eyewitnesses said parts of the town centre, including the market, had been destroyed in the fighting.
MNLA official Attaye Ag Mohamed said the situation in the town was calm on Wednesday night.
He also said MNLA fighters had taken several other towns in the north and our correspondent confirmed that the Malian army abandoned its positions in Menaka, Agelhok, Anefis and Tessalit.
The government acknowledged the fighting in a statement, saying Malian soldiers were forced "to retreat under heavy fire" after problems with "coordination and intelligence".
The statement also said the rebels were "supported by al-Qaeda in the Islamic Maghreb (AQIM) terrorists and drug traffickers".
It said troops were being "reorganised" and that an investigation into the failed operation was under way.
"The president has called for an immediate ceasefire," government spokesman Mahamane Baby said on state television on Wednesday.
The government did not comment on casualty figures, but the MNLA said several fighters had been killed or wounded on both sides.
The group also claimed to have captured 27 government soldiers.
One western diplomat in the capital Bamako told Reuters that the poorly executed attack had "embarrassed" the government.
Gerard Araud, France's ambassador to the UN, said French forces had not been involved in the operation.
He said the Malian government "did not inform either Minusma [the UN peacekeeping force] or the French Serval".
France currently has around 1,600 soldiers in Mali as part of Operation Serval, and a spokesman said on Wednesday that the country would reinforce its presence with 100 more soldiers.
In 2012, a Tuareg rebellion in northern Mali triggered a military coup.
Civilian rule was re-established in 2013 following the French-led military intervention, but Islamist and separatist forces remain active in some areas.