Deadly blast hits Nigerian city of Jos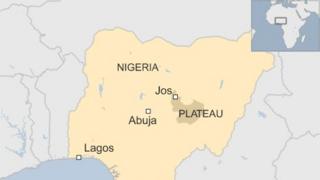 An explosion in the central Nigerian city of Jos has killed at least three people in a suicide attack, police say.
Police said the blast happened near an open-air TV viewing centre where people were watching the Champions League football final.
No group has said it carried out the attack.
However it comes days after a twin car bomb attack blamed on Boko Haram militants killed 118 people in Jos.
A spokesman for Plateau state governor Jonah Jang said the latest blast happened on Bauchi Road at about 21:30 local time (20:30 GMT).
Police commissioner Chris Olakpe told AFP news agency that the bomber's improvised explosive device detonated prematurely.
"He died in the wake of the heinous crime. It exploded before the viewing centre because of pressure from local youths and the alertness of the local people," he added.
Last month suspected Boko Haram gunmen stormed a venue in Potiskum, north-east Yobe state, and shot dead two people watching the two Champions League quarter-final matches.
Boko Haram leader Abubakar Shekau has previously described football and music as a Western ploy to distract Muslims from their religion.
The latest attack comes five weeks after Boko Haram kidnapped more than 200 schoolgirls, prompting international outrage.
The UN Security Council has approved sanctions against the Islamist group.