Malawi election recount ordered in some areas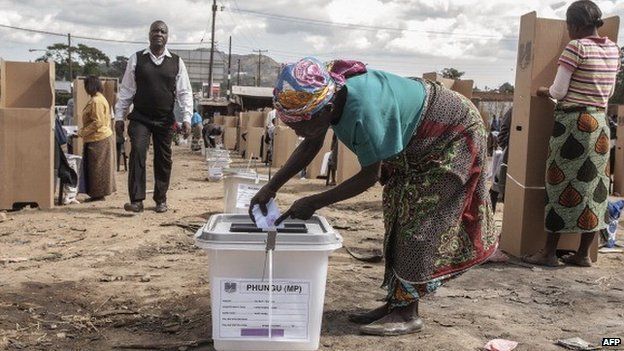 Malawi's electoral commission has ordered a recount in some areas after discovering some voting anomalies after last Tuesday's general election.
In one constituency nearly five times as many people voted as there were names on the voters' roll.
The High Court on Saturday over-ruled an attempt by President Joyce Banda to annul the vote which she said was marred by rigging.
One of her main rivals Peter Mutharika has a lead in unofficial exit polls.
Her other main challenger is a former preacher, Lazarus Chakwera, the candidate of the Malawi Congress Party, which governed from independence in 1964 until the first multi-party poll in 1994.
Mrs Banda, who came to power two years ago after the sudden death of President Bingu wa Mutharika, had said a new vote should be held within 90 days and she would not stand again in any new poll.
Peter Mutharika is the the brother of the late president and had served as his foreign minister.
'The law will punish them'
The BBC's Raphael Tenthani in Blantyre says there was a heated meeting between the Malawi Electoral Commission (MEC) and the political parties who took part in the election before a recount was agreed on Sunday evening.
Mr Mutharika's Democratic Progressive Party (DPP) had got an injunction to stop the MEC from conducting a full recount, but later agreed to the partial recount.
"We will recount the votes in 42 stations where there were anomalies," an electoral commissioner, Emmanuel Chimkwita-Phiri, said.
"We will investigate who was behind this and the law will punish them."
Our reporter says that in one constituency only 38,000 voters registered but more than 184,000 actually voted in the presidential ballot in which 12 candidates were standing.
Last week, Mrs Banda accused a party, which she did not name, of infiltrating and hacking the electronic system that transmits the results to the MEC's headquarters.
The MEC's chairman denied that its system had been hacked.
The president said irregularities included
The arrest of presiding officers who were "caught in the act of rigging"
Some people voting up to three times
"Serious anomalies" where some candidates won more votes than the number of registered voters
Discarded and tampered ballots
Communication devices of some monitors being blocked.
Late on Friday, the MEC said Mr Mutharika had taken a lead of 42%, with 30% of votes counted. Ms Banda was in second place with 23%, the commission said.