South Africa man 'chained children for years'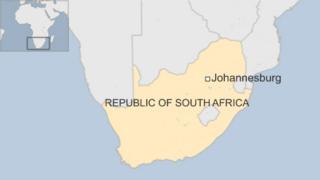 A South African man accused of keeping his children chained in a hostel room for eight years has been remanded in police custody.
The 50-year-old man appeared at a court in Alexandra, a township north of Johannesburg, on charges of child neglect.
The siblings, aged nine, 14, 18 and 24, all showed visible signs of injuries to their ankles and wrists, police say.
They were found after the 24-year-old, alleged to be mentally ill, escaped.
Shocked
The father reportedly said he locked them up for their own safety.
The police reportedly had to hold back angry residents who wanted to attack the 50-year old and his wife after they children were discovered in Nobuhle hostel.
Neighbours described the living conditions in the two-roomed house as "appalling" reports say.
Mfihleni Ndaonde, who had lived at the hostel for nine years, said she was shocked when the story broke.
"I live right next door to them but I never saw or heard the kids. I see Emmanuel leaving for work. He makes sure his room is always locked," the Daily Sun newspaper quotes her as saying.
The man will appear in court on 6 June for a formal bail application.