Ebola outbreak: Medics travel to eastern Sierra Leone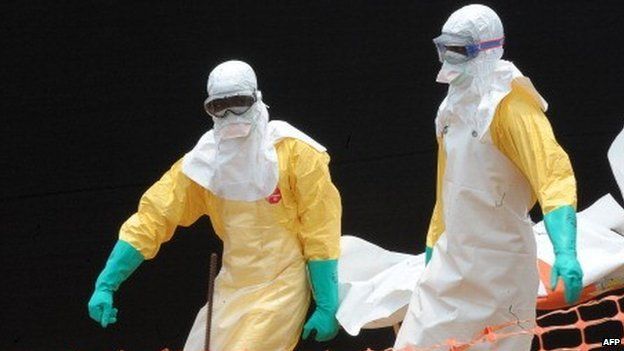 International medical aid teams are to arrive in eastern Sierra Leone to try to deal with an outbreak of the deadly and highly contagious Ebola virus.
The experts are from the World Health Organization and the Doctors Without Borders charity.
This comes after six suspected Ebola patients were taken out of hospitals by their families, defying doctors.
One of the patients later died amid fears that the virus could spread, a local health official said.
Nearly 200 people have died of Ebola in West Africa since an outbreak was first reported in Guinea in March.
There is no cure or vaccine for Ebola - one of the world's deadliest viruses.
Ebola virus disease (EVD)
Symptoms include high fever, bleeding and central nervous system damage
Fatality rate can reach 90%
Incubation period is two to 21 days
There is no vaccine or cure
Supportive care such as rehydrating patients who have diarrhoea and vomiting can help recovery
Fruit bats are considered to be the natural host of the virus
But people have a better chance of surviving if it is identified early and they receive medical attention.
Ebola can kill up to 90% of those infected and is passed on through contact with the fluids of infected people or animals, such as urine, sweat and blood.
The medical teams are expected to arrive in a remote part of Sierra Leone later on Thursday.
Just touching the body of an infected person can cause deadly transmission, so the experts will be covered from head to foot in protective clothing, the BBC's Mark Doyle reports.
But they are facing another obstacle even before they start work, following the removal from a clinic of the six suspected patients.
Dr Amara Jambai, the director of disease prevention and control at Sierra Leone's health ministry, told the BBC that staff at the clinic in Koindu town in eastern Sierra Leone had tried to stop the patients from being removed.
However, the families had been "aggressive" as they took their relatives away, he said.
The families apparently feared their loved ones would die a lonely death.
But they also appear not to have understood the grave danger they have put themselves and their communities in by trying to take care of the patients themselves.
The relatives' love for their sick relatives may end up killing them all, our correspondent adds.
Dr Jambai said two people had so far died of Ebola in Sierra Leone, and not four as previously reported.
Guinea has been worst-affected, with 258 suspected and confirmed cases of Ebola, including 174 deaths - 146 of which have been laboratory-confirmed positive.
In Liberia, there have been 12 suspected cases, with nine deaths.
Related Internet Links
The BBC is not responsible for the content of external sites.