Spain arrests militant suspects in Melilla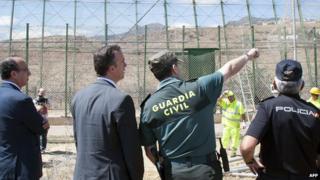 Spain's interior ministry says it has arrested six men on terror charges in its north African enclave of Melilla.
A statement said the men were suspected of trying to recruit fighters for militant groups in Libya and Mali.
Spain has arrested dozens of suspected militants in its enclaves in Melilla and Ceuta in recent years. The cities lie on the southern Mediterranean coast and are surrounded by Morocco.
Earlier this week, about 400 migrants breached the border fence in Melilla.
The enclave is a major crossing point for those seeking work or asylum in Europe and there have been several attempts to storm the 6m-high (19ft) border fence in recent weeks.
Friday's arrests were carried out by Spanish police in co-ordinated raids.
One man detained was described by the interior ministry as the "first Spanish jihadist" to have returned from the conflict in Mali.
He was also suspected of attending a training camp run by Mali's Movement for Unity and Jihad in West Africa (Mujao).
In March, Spanish and Moroccan police detained seven men whom they accused of running a militant cell spanning both countries.
Together with a second Spanish enclave, Ceuta, Melilla is the European Union's only land border with Africa.