CAR clashes leave two protesters dead in Bangui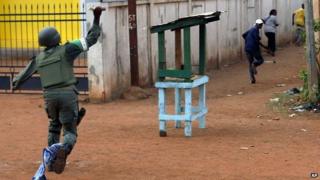 At least two people have been killed in a second day of violent protests in the Central African Republic's capital Bangui, military officials said.
Burundian peacekeepers opened fire after a crowd attacked their base, an African Union spokesman said.
The latest protests have been triggered by a deadly attack on a church on Wednesday.
Thousands have taken to the streets demanding the resignation of the transitional government.
The Central African Republic (CAR) has suffered ethnic and religious violence for more than a year since mainly Muslim Seleka rebels seized power in the majority Christian country.
Correspondents say many protesters accuse the Burundian contingent of the African Union peacekeeping forces of permitting attacks on Christians.
Francis Che, spokesman for the peacekeeping mission, told Reuters news agency that the latest deaths occurred when some armed protesters attacked the Burundian base.
"The Burundians responded with live fire and there were two people killed and two wounded among the assailants," he said.
However, protesters say they were unarmed and had come to speak to the head of the UN mission which has its offices nearby.
More than 10 people died in Wednesday's gun and grenade attack on the Notre Dame de Fatima church, which is in a mainly Muslim neighbourhood.
In a nationwide address on Friday, interim President Catherine Samba-Panza promised that those responsible would be punished.
"Inter-community hatred is being exploited shamelessly by the enemies of peace," she said.
The church compound was home to nearly 9,000 displaced people and about 5,000 remain there, a source told the BBC.
On Thursday, Christian youths sacked a mosque in Bangui and barricaded streets with burning tyres. There have been no reports of casualties from the attack on the mosque.
The CAR exploded into religious conflict last year after Muslim rebel leader Michel Djotodia seized power.
Mr Djotodia resigned in January under diplomatic pressure, but violence between Christian and Muslim militia groups has continued.
Thousands have been killed and tens of thousands more have fled the country.
The UN says that about 1.3 million people - a quarter of the population - are in need of aid.