Malawi protester killed in poll recount clash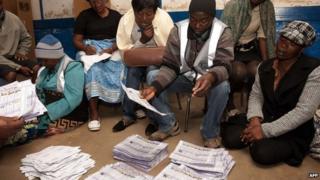 A protester in Malawi died after police dispersed an angry crowd demanding a recount of last week's election.
Demonstrators in the southern town of Mangochi broke shop windows and burned tyres, prompting police to fire tear gas and rubber bullets.
A court is expected to rule whether the electoral commission should announce the result or order a recount.
Opposition candidate Peter Mutharika has a lead in exit polls. President Joyce Banda says the vote was rigged.
Last weekend, the High Court overruled her attempt by President Joyce Banda to annul the election.
Her other main challenger is a former preacher, Lazarus Chakwera, the candidate of the Malawi Congress Party, which governed from independence in 1964 until the first multi-party poll in 1994.
Mrs Banda, who came to power after the death of President Bingu wa Mutharika two years ago, had said a new vote should be held within 90 days and she would not stand again in any new poll.
Peter Mutharika, leader Democratic Progressive Party, is the the brother of the late president and had served as his foreign minister.
'Voting anomalies'
The Malawi Electoral Commission (MEC) applied to the High Court on Tuesday for a 30-day extension to announce the results so that a recount can be carried out.
It said that in 58 of more than 4,000 polling centres the official number of votes cast was more than that of registered voters.
The BBC's Nomsa Maseko in Blantyre says a crowd of about 100 people has gathered outside the High Court, demanding that a recount be allowed.
Last week, Mrs Banda accused a party, which she did not name, of infiltrating and hacking the electronic system that transmits the results to the MEC's headquarters.
The MEC's chairman denied that its system had been hacked.
Correspondents say this is Malawi's closest-fought poll in 20 years.