How far does Boko Haram's reach extend?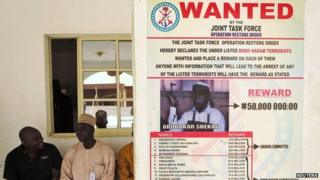 Two months ago, almost no-one outside Nigeria and parts of West Africa had ever heard of Boko Haram.
Today, for all the wrong reasons, the militant Islamist group has become an international household name.
Its sudden notoriety is said to have surprised even its leaders, who for now find themselves in a strong bargaining position with the Nigerian government.
To universal condemnation, Boko Haram continues to hold more than 200 teenage schoolgirls it abducted from their dormitories one night in April.
A global campaign for their release, including an impassioned appeal by the US First Lady, Michelle Obama, has so far failed to free a single captive.
But this mass abduction is only one aspect of Boko Haram's increasingly violent campaign to force its demands on the Nigerian state through a succession of bombings, shootings, kidnappings and extortion.
In its drive to recruit new members it has been amply assisted by the human rights abuses allegedly committed by the Nigerian authorities.
"The scale of atrocities carried out by Boko Haram is truly shocking, creating a climate of fear and insecurity", says Amnesty International.
"But this cannot be used to justify the brutality of the response that is clearly being meted out by the Nigerian security forces".
Demanding ransoms
Boko Haram's grievance is primarily with the Nigerian government. But it also espouses an anti-Christian, anti-western agenda. Its name, an abbreviation of its full title, means "western education is sinful".
Its members and their jihadist affiliates in a group called Ansaru have kidnapped, ransomed and sometimes murdered western hostages. In 2011 it blew up the UN's regional headquarters in Abuja with a car bomb, using techniques believed to have been learned from al-Qaeda.
In an extensive new report on Boko Haram published this week by the Combating Terrorism Centre at the US Military Academy at West Point, the author Jacob Zenn argues that last year's French military intervention in Mali may have indirectly revitalised Boko Haram.
"From March to May 2013 former Ansaru, Boko Haram and other militants who fought with or learned from militants in Mali launched attacks along (Nigeria's) north-eastern Borno border with Niger and Cameroon," says Mr Zenn.
"For the first time in Nigeria, militants mounted weapons on 4x4 vehicles, kidnapped government officials and their relatives to exchange for ransoms of $10,000 to $300,000 (£6,000 - £180,000)."
Threat to western nations?
The report quotes an intelligence assessment by Nigeria's State Security Service (SSS) that "some 200 persons suspected to be of Nigerian origin successfully completed their training at a camp in Mali".
So what exactly is the extent of Boko Haram's international reach? Could it, as some fear, become a security threat beyond Nigeria and its borders with neighbouring Cameroon and Niger? Could it even, as has been suggested, one day threaten western nations at home?
There is ample evidence of Boko Haram's presence just across the Nigerian border into those neighbouring countries.
For example, northern Cameroon, despite the recent announcement of its troop deployments along the border, seems to have become something of a safe haven for the militants to regroup in, after launching attacks inside Nigeria.
According to Africom, the Pentagon's Africa Command, there is also evidence of occasional links between Boko Haram and the regional franchise of al-Qaeda - AQIM or al-Qaeda in the Islamic Maghreb.
A small number of Boko Haram fighters are believed to have travelled as far eastwards as the Central African Republic and even Somalia to join up with al-Shabab.
The CTC Sentinel report by Jacob Zenn concludes that:
"Boko Haram will likely expand its focus outside of northern Nigeria".
Its ideology "will become less Nigeria-centric and more trans-regional to attract a new Saharan recruiting pool"
And finally, "Boko Haram may prepare for retaliatory attacks on western targets in southern Nigeria or abroad and take advantage of its networks in Sudan and possibly the UK if a regional or international coalition collaborates with Nigeria to launch a total war on Boko Haram or rescue the schoolgirls from Chibok."
Aspirations further afield?
This may be going too far. Firstly Britain, says one government official, is reluctant to share intelligence with Nigeria because of its poor human rights record.
And if Boko Haram does have any networks in the UK then the British authorities are not aware of them.
The vast majority of British residents of Nigerian origin are Christian and officials say the networks they feared may develop here have not so far materialised.
"Boko Haram," said the official this week, "is more than capable of striking targets inside Nigeria. It may well have aspirations beyond Nigeria, but for the moment it lacks the capacity".
That may not always be the case.
Boko Haram at a glance
Founded in 2002
Initially focused on opposing Western education - Boko Haram means "Western education is forbidden" in the Hausa language
Launched military operations in 2009 to create Islamic state
Thousands killed, mostly in north-eastern Nigeria - also attacked police and UN headquarters in capital, Abuja
Some three million people affected
Declared terrorist group by US in 2013
Profile: Boko Haram leader Abubakar Shekau
Why Nigeria has not defeated Boko Haram