Northern Nigeria bomb blast 'kills football spectators'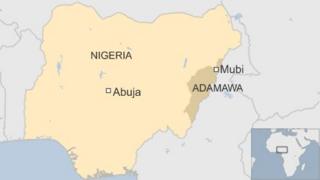 At least 14 people have been killed in a bomb attack on a bar that was screening a televised football match in north-eastern Nigeria, police say.
The attack place in the town of Mubi in Adamawa state, close to the border with Cameroon.
Adamawa is one of three states that have been placed under emergency rule because of an insurgency waged by Islamist Boko Haram militants.
However, no-one has yet said they carried out the latest attack.
"So far we have 14 dead while 12 are injured, some of them critically," said the police spokesman for Adamawa state, Usman Abubakar.
Some reports put the death toll higher.
According to the BBC's Nigeria correspondent, Will Ross, it is hard to get eyewitness accounts because of an overnight curfew in the area.
Abducted girls
Bombings by Boko Haram in central and northern Nigeria have killed at least 200 people over the past month.
The Islamist group has come under the international spotlight after it recently abducted more than 200 girls from a school in northern Nigeria.
Efforts to locate the girls have so far drawn a blank.
President Goodluck Jonathan said last Thursday that he had ordered a "full-scale operation" against Boko Haram.
However, all efforts to locate the missing girls have so far drawn a blank.
According to Reuters news agency, Boko Haram has killed at least 500 civilians since the girls were abducted in April.
Boko Haram at a glance
Founded in 2002
Initially focused on opposing Western education - Boko Haram means "Western education is forbidden" in the Hausa language
Launched military operations in 2009 to create Islamic state
Thousands killed, mostly in north-eastern Nigeria - also attacked police and UN headquarters in capital, Abuja
Some three million people affected
Declared terrorist group by US in 2013
Profile: Boko Haram leader Abubakar Shekau
Why Nigeria has not defeated Boko Haram