Kenya riots in Mandera after 'al-Shabab' clerics killed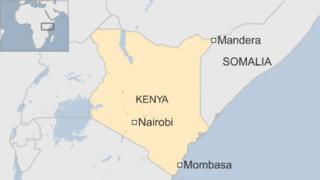 Kenyan police have fired tear gas to disperse rioters angry at the killing of two clerics accused of belonging to Islamist group al-Shabab.
Police said the Muslim clerics were armed with guns and hand grenades.
The protesters in the north-eastern town of Mandera say the clerics were well-known religious figures, and had nothing to do with al-Shabab.
Mandera town is close to the border with Somalia, and has been affected by violence blamed on Islamist militants.
Most of its inhabitants are ethnic Somalis.
The demonstrators lit fires along busy roads in the town while engaging the police in running battles.
Several Muslim clerics accused of links to al-Shabab have been shot dead in the coastal town of Mombasa in recent years.
The residents said the two clerics were shot dead as they emerged from a mosque where they had been praying.
Local official Michael Ole Tialal said the two were part of a three-man gang returning from Somalia.
He said they had gone to help an al-Shabab operative cross into Kenya illegally and collect weapons in a night-time operation.
Mr Tialal said security forces had tried to stop the men's vehicle when the three occupants threw hand grenades.
The two men were shot dead but the third escaped.
Police say they have recovered eight hand grenades from the suspects' car.
They are still pursuing the third suspect who managed to escape and the one believed to have been trying to enter Kenya illegally.
Tension is still high in the area with both regular and paramilitary personnel guarding the border town which has also witnessed a series of communal killings.
Kenya has seen a number of attacks since 2011 when its forces entered Somalia to fight al-Shabab.