Malawi's Peter Mutharika offers Joyce Banda olive branch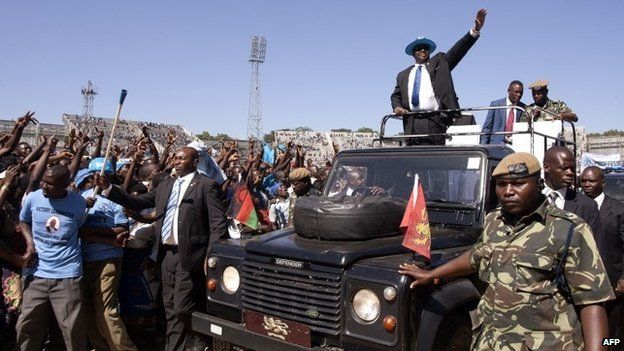 Malawi's newly elected President Peter Mutharika has said he is offering an "olive branch" to ex-leader Joyce Banda after winning disputed elections.
He was addressing thousands of supporters at a ceremony to celebrate his inauguration as president.
Mr Mutharika was charged with treason in March 2013 after being accused of plotting a coup. He denied the charge.
Mrs Banda failed in a bid to annul Mr Mutharika's victory in last month's election.
She called for a re-election, saying the election had been marred by widespread fraud.
However, Mrs Banda accepted defeat after the High Court ordered the release of the results on Friday.
She is the first serving Malawian president to lose an election.
Mr Mutharika is Malawi's former foreign minister and brother of Bingu wa Mutharika, the late president who unexpectedly died in office in 2012.
Official results showed Mrs Banda came third with 20% of the vote.
Mr Mutharika won with 36% of the vote, while former preacher Lazarus Chakwera was in second place with 28%.
The BBC's Raphael Tenthani reports from the ceremony that the 30,000-capacity Kamuzu Stadium in the main city, Blantyre, was packed with supporters of Mr Mutharika.
However, Mrs Banda did not attend and Mr Mutharika told the crowd he regretted that she had "declined to come here and hand over power to me".
"I look forward to shaking hands with her to bury the past. I come to her with an olive branch. Don't let it drop," he said.
A spokesman for Mrs Banda said she had not been officially invited, and her presidential convoy was withdrawn in the early hours of Saturday as soon as Mr Mutharika's victory was announced, AFP news agency reports.
Born in 1940
Studied law at the US's Yale University and University of London
Former law professor at Washington University
Elected MP in 2009
Brother of late President Bingu wa Mutharika
Justice, education and foreign minister in brother's cabinet
Accused of plotting coup in 2012; denies treason charge
"It would have been difficult for the outgoing president to travel to Blantyre," the spokesman is quoted as saying.
Mr Mutharika promised to prosecute all those involved in "Cashgate", a reference to a huge corruption scandal which hit Malawi during Mrs Banda's presidency.
"Cashgate was a very very serious problem. I think our country had lost its moral compass. I think things like Cashgate happen when our leaders fail to differentiate between right and wrong," Mr Mutharika said.
The scandal saw millions of dollars worth of public money allegedly stolen by politicians, civil servants and businessmen.
It led to donors cutting aid. Malawi is heavily dependent on aid, which provides 40% of the government's budget.
Correspondents say Mr Mutharika's treason trial is unlikely to go ahead as he now enjoys presidential immunity.
An official inquiry found he had asked the military to take over after his brother's death in 2012.
The military refused, opening the way for Mrs Banda, then the deputy leader, to assume the presidency, the inquiry found.