Hostage video of Frenchman kidnapped in Mali shown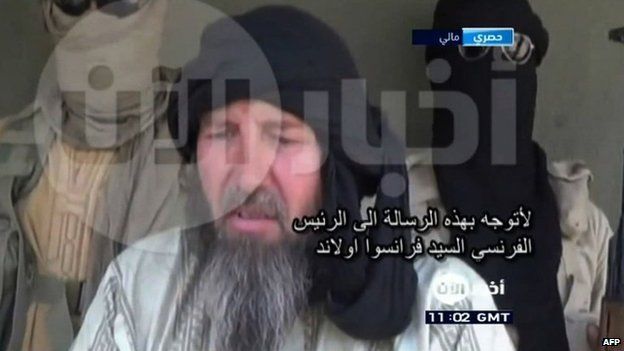 A video of a French hostage kidnapped in Mali by al-Qaeda has been broadcast by a TV station in Dubai.
The video showed Serge Lazarevic, who was abducted in 2011, appealing to French President Francois Hollande to secure his release.
In the video, Mr Lazarevic said he was speaking on 13 May. French officials say they are studying the footage.
The 50-year-old was abducted with another Frenchman, Philippe Verdon, who was killed in Mali last year.
"I take this opportunity today May 13, 2014, to call on Francois Hollande, the president of France, to do everything to negotiate my release," Mr Lazarevic said in the video, speaking in French.
Mr Lazarevic, a dual French and Serbian national, wore a black turban and was accompanied by two gunmen.
The two men were seized at gunpoint by al-Qaeda in the Islamic Maghreb (AQIM) in Hombori in central Mali on 23 November 2011.
Mr Verdon's body was found in northern Mali in July last year. French prosecutors said he had been shot in the head.
AQIM, which often takes western hostages, said it had killed Mr Verdon in retaliation for France's intervention in Mali.
France sent troops to Mali in January 2013 after al-Qaeda-linked militants threatened to overrun the capital, Bamako.
Mr Lazarevic is thought to be the last Frenchman in captivity, after the murder in April of Gilberto Rodrigues Leal, who was abducted in Mali in 2012.
Last October, four French hostages seized by al-Qaeda-linked gunmen in Niger were released. The French government denied reports that a ransom was paid.
One of the four, Thierry Dol, has described spending almost a month with Mr Lazarevic before being freed, although they were not allowed to talk, AFP news agency reports.