South Africa's 'Springs monster' slits wrists after bail refusal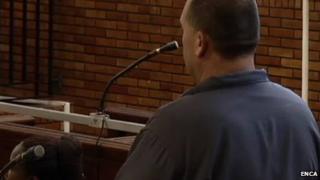 A South African man, who allegedly held his wife and children captive in their home for several years, slit his wrists after he was denied bail, police say.
The businessman, 36, who faces charges including attempted murder, allegedly tortured his relatives in the normally quiet community of Springs.
The BBC's Pumza Fihlani says the case of the "Springs monster" has shocked and angered many South Africans.
This is the second such case to have been uncovered this week.
Another man was arrested and accused of chaining his children inside a hostel room in the township of Alexandra, north of Johannesburg.
Outside court in Springs, local people protested, demanding that he should not be released on bail.
The court denied his bail application, saying he may interfere with the investigation if not detained.
Our correspondent says Springs, a largely conservative community, has been turned on its head, as it seem incomprehensible to many that the alleged atrocities happened and went undetected for so long.
The police confirmed to the BBC that the man was taken to a nearby hospital after he used a razor to slit his wrists moments after a magistrate turned down his bail plea. He has been placed under police guard.
The man, whose name has been withheld to protect the identity of his family, allegedly kept his wife and five children locked inside for several years.
Beeld newspaper reported that the children were shocked with electric wires and burnt with a blow torch.
Police found the house full of chains, blow torches, ropes and pornographic DVDs at the house when the man was apprehended.
The paper reported that the house was expensively furnished, but the children were often expected to sleep together on one dirty bed.
The court heard graphic details of how the man allegedly imprisoned the children - aged between two and 16.
'Tantamount to torture'
The state presented two witnesses at the two-day bail application.
Forensic expert Gerhard Labuschagne said he had a brief meeting with the accused last week after his arrest.
He submitted that the accused had done things to his wife and children that were "tantamount to torture".
Neighbours have told local newspapers they did not even know of the children's' existence until they were found last Tuesday.
The man was arrested after one of the children fled the house after his father allegedly threatened to kill him and alerted a neighbour.
His 11-year-old son alleged that his father had strung him up by the wrists for two days using a rope. When asked to be set free, his father is said to have used teargas on him.
Investigating officer Rudolf Jansen told the court: "There were live rats and rat droppings in the kitchen of the house."
Further charges, including one of rape, were expected to be brought against him after allegations that he had forcefully had sex with his wife.
Other charges of statutory rape are under investigation after a medical report revealed that the 16-year-old daughter was sexually active despite having never left the house.
He also faces charges of child abuse, rape, assault, and defeating the ends of justice.
The 36-year-old will remain behind bars until his next court appearance on 12 June.